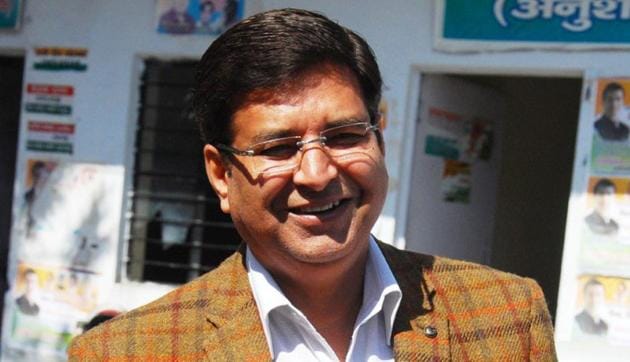 'Will channelise party's energy to counter BJP in U'khand'
UPDATED ON MAY 05, 2017 08:22 PM IST
Dehradun: Pritam Singh will take up the reins of the Congress in Uttarakhand from Kishore Upadhyay when his party's morale is at an all-time low following a rout in the assembly poll. In an interview with Hindustan Times on Friday, Singh lists his priority, challenges and a road map to strengthen the party's base in the hill state.
The Congress is reduced to 11 in the 70-member assembly and party workers continue to be demoralised ever since the poll rout. What will be your priority amid the current circumstance?
The electorate has given us the responsibility of being the main opposition party. I will try to take all senior leaders and Congress workers together to strengthen the party and to re-establish our public base. I'd ensure that the Congress workers reach out to the grass root level to connect with the public.
What do you think is the biggest challenge for you right now?
At present, the Congress is on the back foot and I'd like to focus on lifting up the spirit of party works and re-energising them for a new innings. We have launched a collective struggle against the (ruling) BJP and through that (struggle) we will unite and establish the (Congress) party once again in Uttarakhand.
Do you have a road map in mind for the Congress' revival in the hill state?
Yes, we will take a step-by-step route to that. Before the next assembly polls in 2022, we have many tasks to complete including winning the urban local body polls (in 2018), and panchayat elections and Lok Sabha election (in 2019). In that order, first of all, I will work to galvanise the party for the local body polls due early next year.
Going by the numbers, the BJP - which won 57 seats in the assembly polls - seems to have an edge over the Congress in terms of popularity. How do you plan to counter the wave?
The BJP government's performance (since taking over on March 18) has been disappointing to say the least. We will work in a synchronised manner to corner the BJP both inside the assembly as well as outside. We will work to channelise our energy to counter the BJP and will expose its (the BJP government's) failure in different sectors before the public.
The Congress saw the exodus of many senior leaders over the past year. How do you plan to fill in the leadership crisis?
It is true that many senior leaders left the party...however, we don't want to cry over split milk and will work to nurture new leadership within the party to fill in the vacuum. Moreover, I'd try to bring the party leaders on a common platform to resolve their difference in opinion.
Close