AAP's Gandhi Nagar MLA joins BJP, says he was 'ill-treated'
Bajpai's defection, however, will not lead to a bypoll on the Gandhi Nagar seat as the assembly elections in the national capital are due early next year.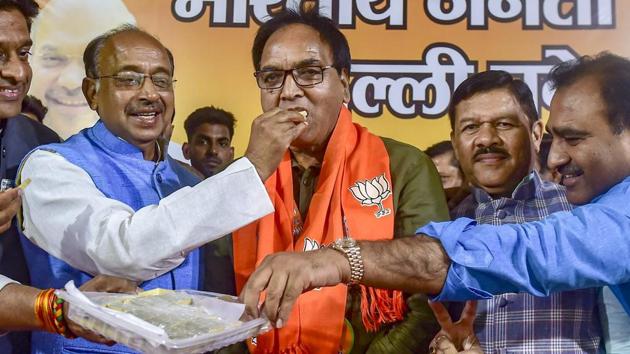 Updated on May 04, 2019 11:45 PM IST
In a setback to the Aam Aadmi Party (AAP) and amid allegations of horse trading, Anil Bajpai, the party's MLA from east Delhi's Gandhi Nagar Friday joined the Bharatiya Janata Party (BJP).
Bajpai's defection, however, will not lead to a bypoll on the Gandhi Nagar seat as the assembly elections in the national capital are due early next year.
Joining the saffron party, nearly a week ahead of Delhi's polling day (May 12) in the Lok Sabha elections, Bajpai alleged that he was "ill-treated" and "humiliated" by AAP.
"There is no point being in a party where there is no respect for you. I am hurt by these things and so have taken this step," he said after joining the BJP, in the presence of party national vice-president and city BJP in-charge Shyam Jaju and Union minister Vijay Goel.
Saying the AAP has drifted away from its ideology, Bajpai also criticised the party's east Delhi Lok Sabha candidate Atishi for disrespecting him.
While Atishi was not available for comment, AAP leader and Delhi convener Gopal Rai said Bajpai's move vindicated the party's claim that the BJP was trying to poach its MLAs ahead of polling. Rai also alleged that Bajpai had taken money from the BJP to join that party.
" It is obvious that Bajpai is finding faults within the AAP. Bajpai had himself come from the Congress. I want to ask why then was he was so opposed to our alliance talks with the Congress? This itself proves that his intentions were not sincere towards the AAP," Rai claimed.
Bajpai said he had approached the BJP. "I did not get any call from the BJP, in the way the AAP leadership is suggesting. There is no question of me taking money from any political party," he said.
"In my knowledge, there are 12-13 more AAP MLAs who are planning to exit the party. But I won't take names," he claimed.
Officials in the election office said Bajpai joining the BJP does not mean a by-election on the Gandhi Nagar assembly constituency.
"Firstly, a vacancy has not been created yet as the Speaker has to take note of the defection and issue directions of removal accordingly. Once the vacancy is created, a by-poll will not be needed in this case as there is less than a year to go for the assembly elections. This is according to Section 151A of Representation of the People Act, 1951," an election officer, on condition of anonymity, said.
The AAP assumed power in Delhi on February 14, 2015. Before joining the AAP, Bajpai was with the Congress. In the 2015 assembly election, Bajpai had defeated BJP's Jitendra by 7,482 votes.
The other AAP MLAs who have turned rebels are Karawal Nagar's Kapil Mishra and Sultanpur Majra's Sandeep Kumar.
Chandni Chowk MLA Alka Lamba, who has been sidelined within the party following differences with Kejriwal and other leaders, said Bajpai's exit would negatively impact the AAP.
"This is going to impact Atishi's prospects of winning in east Delhi as she is anyway pitted against big names from the BJP (cricketer Gautam Gambhir) and Congress (former MLA Arvinder Singh Lovely)," Lamba said.
Close Story