'A monkey inside station, a bird on tracks': Animals give Delhi Metro staff a runaround
Hindustan Times, New Delhi |
, New Delhi
HT Correspondent
Sep 25, 2018 10:39 AM IST
On Monday, a monkey entered the Azadpur Metro station — the interchange station between the Yellow and the Pink Line
In the last two days, Delhi Metro officials witnessed the plot of 1995 Hollywood blockbuster 'Jumanji' come alive on their network. A monkey sneaked inside a Metro station on Monday, panicking passengers; while a day earlier a large bird fell on the tracks briefly disrupting operations.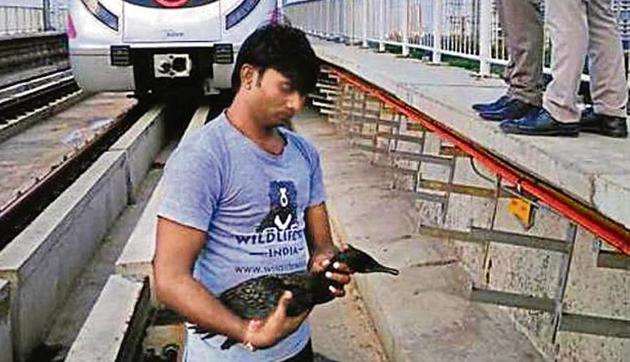 In the first incident on Sunday, an Indian cormorant fell on the Metro tracks near the Kalindi Kunj Metro station on the Botanical Garden-Janakpuri West section (Magenta Line) and services were halted the bird was rescued. The body of an Indian cormorant is roughly a foot long, and the tail extends to another five inches.
Meanwhile, on Monday, a monkey entered the Azadpur Metro station — the interchange station between the Yellow and the Pink Line — causing panic among passengers and had to be removed by Metro personnel.
"No passenger or staff member was harmed during the incident. The monkey, which was seen in the concourse area, was whisked away by the Central Industrial Security Force (CISF) and the Delhi Metro Rail Corporation (DMRC) staff shortly after it had entered the premises," a DMRC spokesperson said.
Regular commuters of the area said that monkey menace is a major problem in Azadpur, especially due to the station's proximity to the wholesale vegetable market. However, this was probably the first instance that a monkey had breezed into the station unnoticed by authorities.
"It was merely going up and down the escalator before it was taken away by the authorities," said Sai Ashwin, an eyewitness.
In Sunday's incident, services had to be briefly halted on the Magenta Line to rescue an Indian Cormorant, which collapsed on the tracks near the Kalindi Kunj Metro station. An animal welfare NGO, Wildlife SOS, rescued the bird from the tracks and it is currently under medical observation. The NGO said the DMRC alerted them about the bird after one of its train operators spotted it on the tracks as it was struggling to fly. They feared that the bird may be run over by the train.