According to the detailed project report, the spur or metro extension connecting Rezangla Chowk in Palam Vihar and Dwarka Sector 21 station will be 8.4km long, of which 5km will be from Palam Vihar to Sector 111 in Gurugram and remaining 3.4 km will be in Delhi.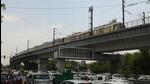 The Delhi Metro Rail Corporation (DMRC) on Sunday said smart card usage in the Delhi Metro network has seen a significant surge this year with around 78% of its commuters using such cards for commuting by Metro since January, compared to around 70% smart card users during pre-Covid times

In videos that circulated on social media, people could be heard crying for help. Officers present at the site said that because of the smoke, many working in the building jumped from the windows in a desperate bid to escape the flames.

Written by Sharangee Dutta | Edited by Chandrashekar Srinivasan
, New Delhi
The fire was first spotted near pillar 544 of the metro station, and initially a total of 10 fire tenders were rushed to the site. Later, another 14 were sent to bring the blaze under control.

Written by Sharangee Dutta | Edited by Sohini Goswami
, New Delhi
The new interchange hub will facilitate a 'convenient mode of transit' for commuters taking the Delhi Metro towards Magenta Line and decongest the Blue Line.