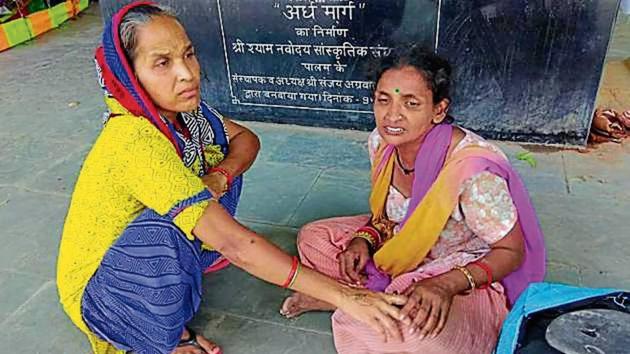 Cleaner dies in sewer in Delhi after rope tied to his waist snaps, case filed
A 37-year-old man died of asphyxiation while cleaning a Delhi Jal Board (DJB) sewer in a residential neighbourhood in west Delhi's Dabri on Friday evening
Hindustan Times, New Delhi | By Shiv Sunny
UPDATED ON SEP 17, 2018 02:36 AM IST
A 37-year-old man died of asphyxiation while cleaning a Delhi Jal Board (DJB) sewer in a residential neighbourhood in west Delhi's Dabri on Friday evening, police said. According to them, the man, Anil, a labourer was lowered in a 20 foot deep sewer by a 'weak' rope tied to his waist which snapped midway.
He died just six days after his four-month-old son succumbed to pneumonia.
Satbir Kala, a local resident, privately hired Anil for cleaning the sewar line and had allegedly ignored warnings that the rope being used for the labourers' safety was weak and could snap.
Police said no other safety apparatus was provided to Anil for the manual scavenging work which is banned by law. "The rope provided by Satbir was weak and he got the work done in the evening around 7.30pm, which is an unsafe time," Anto Alphonse, deputy commissioner of police (Dwarka), said.
According to a DJB spokesperson, the work of laying the sewer line in the neighbourhood was going on and the incident happened while Satbir was trying to illegally connect the drain to his three storey building.
On Sunday, the DCP said Satbir would be arrested soon. "Satbir got himself hospitalised claiming that the incident had increased his blood pressure. But he has been discharged today (Sunday) and we will be arresting him soon," the DCP said.
Satbir was initially booked under section 304 A (causing death due to negligence) but police have now added section 304 (culpable homicide not amounting to murder) of the Indian Penal Code as well as sections of The Prohibition of Employment as Manual Scavengers and their Rehabilitation Act. If convicted for section 304, Satbir could land in jail for 10 years.
The deceased, Anil, lived with his wife Rani and three children – aged 11, 7 and 3 – in a rented room in Dabri Extension. "My husband aspired for a decent job but cleaning was all he knew," said Rani, sitting with her three children at a crematorium as she waited for help with the last rites.
Ramesh, a 65-year-old private contractor, said he and Anil were hired by Satbir around 7pm Friday to clean the sewer. "Satbir asked me to lower Anil into the sewer but I told him that the rope he had brought along was weak and could break. I also warned him that it could lead to an accident as the sewer was deep and filled with poisonous gases," Ramesh said in his statement to the police. "But Satbir told me that he had already paid Anil and asked me to go ahead with it. He ignored my repeated warnings, tied a rope around Anil's waist and lowered him into the drain," Ramesh alleged.
The rope snapped immediately, sending Anil deep into the drain, claimed Ramesh. "Satbir tried to rescue him but failed. He then called the police," he said.
Raja Walia, a neighbour and an eyewitness, said the circumference of the manhole was barely 70 centimetres , making rescue difficult. "It took more than 90 minutes to fish out his body," he said
Topics
Close