Delhi government to introduce daily 'happiness' classes in schools
Updated on Feb 07, 2018 11:51 PM IST
The move comes in the backdrop of instances of violence reported in schools. An activity-based 'happiness' curriculum will be started in April this year for Classes nursery to 8.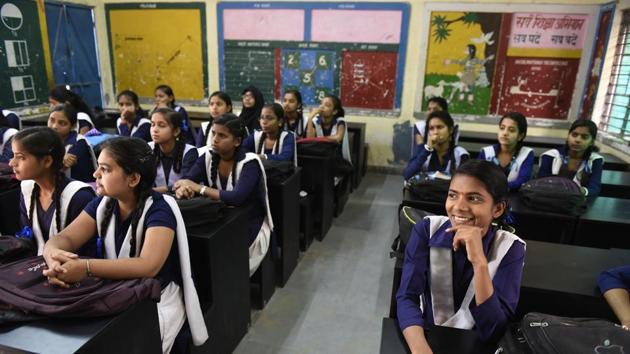 In view of recent incidents of murder, rape and physical violence in school campuses, the Delhi government is introducing daily 'happiness' classes for students of Classes nursery to 8.
The move is aimed at making them self-aware and content.
Deputy chief minister Manish Sisodia on Thursday said the directorate of education and state council of education research training (SCERT) is working on an activity-based 'happiness' curriculum that will be started in April this year.
"The purpose of education is not just to get high marks. The education system needs to create happier, confident and self-aware citizens. These self-aware citizens will create a better society," he said.
Sisodia was speaking at this year's Excellence in Education awards to facilitate schools and students for their performance.
The move comes in the backdrop of horrific instances reported in schools, including murder of student in a private school in Gurgaon and alleged rape of a four-year-old by her classmate in Delhi.
"All of these instances make us realise that it is not enough to improve students' exam performance, there is a need to for a more fundamental re-look at the purpose of education. Many of the perversions we see in society are due to our education system not being able to answer questions of human happiness and fulfilment," Sisodia said in a note.
Mythili Bector, officer on special duty working on the project, said the curriculum making is still in a nascent stage but the idea is to create activities that will put teachers and students in particular situations which help students learn.
"There will be no textbooks but activities for teachers and students that they will do every day. Teachers will create a situation where they can talk about feelings of students on issues such as peer pressure, exam pressure, expectation from family and bullying," she said.
Officials said the SCERT is developing a set of learning outcomes for a 'happiness' curriculum. The DOE also plans to give national and international exposure to train the teachers, who will teach the curriculum.
Madhu Sen, senior education advisor of Tagore International School, Vasant Vihar, said it was an interesting concept but implementation will be the key to any result. "It should involve experts talking to students about issues concerning their life," she said.
Geetanjali Kumar, a psychologist, said, "It is a good idea to focus on mental health of students but at the same time we need to look at the happiness of teachers who will be imparting these lessons to students."
Personalise your news feed. Follow trending topics