Ghazipur landfill collapse: Despite L-G ban, waste dumped at Delhi's garbage mound
Updated on Sep 05, 2017 03:21 PM IST
About 3,000 metric tonnes of waste generated daily in east Delhi was being dumped at Ghazipur landfill site. More than half of it could not be lifted from colonies on Monday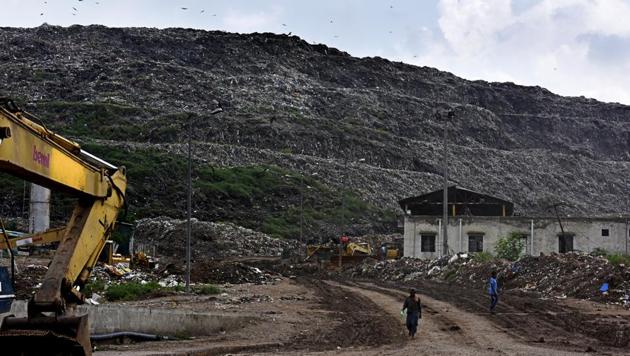 Hindustan Times, New Delhi |
Vibha Sharma & Joydeep Thakur
Having failed to find a place for disposing the garbage in east Delhi, the municipal corporation on Monday decided to continue dumping garbage at Ghazipur landfill site. This is despite Lieutenant Governor Anil Baijal ordering an immediate stop on dumping waste at the landfill after a part of it collapsed on September 1 killing two persons.
Municipal officials said trucks go to the top and dump waste near the waste to energy plant. "The dumping will be done under technical supervision so as to avoid any risk/accident in future," said EDMC commissioner Ranbir Singh.
It was decided that till an alternative site is found, garbage collected from east Delhi will be dumped at north Delhi's Rani Khera village. However, in face of stiff resistance from the local residents, the garbage could not be dumped. Angry villagers stopped trucks and deflate tyres.
More than half of the garbage generated in east Delhi could not be lifted on Monday. "Around 3,000 metric tonne of waste is generated daily in east Delhi. We utilise 1,300 metric tonnes at the waste to energy plant but the rest could not be removed from the dhalaos (local dumping sites)," said senior official from Shahdara North zone.
Therefore, a meeting of senior officials decided on Monday that a portion of the Ghazipur landfill will be used for dumping waste now. "As soon as the decision was taken, EDMC trucks started picking waste from the colonies. We hope to clear all waste by Tuesday evening," said senior official. The EDMC also plans to send some waste to Okhla landfill.
Singh said the EDMC was trying to increase the capacity of the waste-to-energy plant from 1,300 to 2,500 metric tonne of waste. "Also, in the next few months, National Highways Authority of India will establish a plant for segregating waste and using it for embankment of roadside," said Singh.
Meanwhile, no decision could be reached on the allotment of land at Ghonda Gunjan in a meeting between EDMC and the NGT-appointed principal Committee. DDA had allotted the land to EDMC for constructing a landfill but since the land falls in zone 'O', the project needs NGT approval.
On Monday, EDMC gave a presentation before the committee for an integrated solid waste management facility at Ghonda Gurjan.
"The bench heard us patiently and acknowledged the problem. However, they asked us to approach the NGT as they don't have power to give sanction for allotment of land," said a senior official.
Meanwhile, river activist and convener of Yamuna Jiye Abhiyan, Manoj Mishra, has written a letter to chief minister Arvind Kejriwal and Lieutenant Governor Anil Baijal against setting up a landfill site on Yamuna floodplains.
The leader of opposition in North MCD Rakesh Kumar has announced to gherao Delhi BJP's chief Manoj Tiwari house on Tuesday. "Being an MP from North East Delhi, we will question him the reason for delay in shifting the landfill from Ghazipur. The situation is nowhere different in Bhalswa and Okhla. They can't escape the responsibility by giving R 1 lakhs as compensation to the kins of deceased people. It is important to fix responsibility and penalise defaulters," he said.
Personalise your news feed. Follow trending topics