IIMC Delhi to begin seminar on 'nationalistic journalism' with yagya
Updated on May 18, 2017 11:51 AM IST
A session at the seminar in IIMC Delhi was to be moderated by Hitesh Shankar, editor of Panchajanya, a mouthpiece of RSS. But he had prior commitments. Former Bastar inspector general of police SRP Kalluri has also been invited.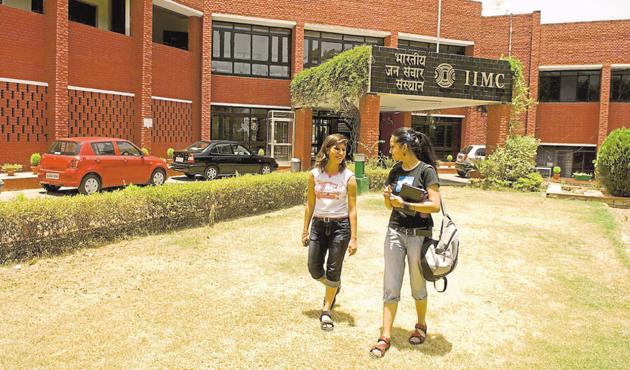 Hindustan Times, New Delhi |
Heena Kausar and Smriti Kak Ramachandran
A yagya (a ritual conducted in front of a sacred fire, often with mantras) will kickstart a day-long seminar on Nationalistic Journalism in Current Scenario: Media and Myth, at Delhi's Indian Institute of Mass Communication (IIMC) on May 20.
After the yagya, which will be a private affair as per the organizers, a session on "Nationalistic Journalism in Current Perspective" will be held during which IIMC director general KG Suresh will be one of the speakers.
The session was earlier scheduled to be moderated by Hitesh Shankar, editor of Panchajanya, a mouthpiece of the Rashtriya Swayamsevak Sangh (RSS), but event organizers said that Shankar won't be coming due to prior engagements and instead an anchor from a news channel has been invited.
The event has garnered sharp reactions from a section of former and current students who have criticized the institute for allowing a religious activity to be held at the campus. However, Suresh has clarified the institute is not organizing the event and is only letting out its premises.
"IIMC is a public funded institute and organizing any religious activities on its campus is not right. The state cannot promote any one religion," said Avinash Chanchal, a former student and a former member of IIMC Alumni Association.
Another student Rohin Verma said, "Our opposition to the yajna is because educational institutions should not have religious activities of any kind. IIMC is neither a Saraswati mandir nor a madrassa."
Verma, interestingly, had been earlier suspended by the institute for violating IIMC's code of conduct after he wrote an article on sacking of a faculty member. His suspension was later revoked.
Some students have also raised objection to the presence of former Bastar inspector general of police SRP Kalluri in one of the sessions. "It is ironic that a person who has been sent notice by NHRC is coming to IIMC to give a talk," said Vikas K Sahu, a former student from Chhattisgarh.
Ashish Anshu from Media Scan, one of the organizers of the event, said Kalluri too is yet to confirm his participation.
The IIMC director general said, "We are not organising the event or the yagya; none of our students or faculty members will be asked to attend. The event is being organised by a media organisation and as a media institution we are only extending support by letting out the premises," he said.
Suresh said IIMC's role is limited to offering their auditorium, which is why the invitation card shows the institute's logo.
"If this is being dubbed as Hindutva, then what would you call the step by the UPA government to install an idol of Goddess Saraswati on the premises? Saraswati Puja is held every year in JNU and at the IIMC campus," Suresh said.
He also said the institute organizes Holi, Diwali and Raksha Bandhan festivities for foreign students to understand Indian culture. "…How is this saffronisation?" he said.