Meet Gurmehar Kaur, the DU student and martyr's daughter who took on ABVP
Gurmehar Kaur, daughter of a Kashmir martyr, had launched a social media campaign against the ABVP which allegedly clashed with Ramjas College students on February 22. Her message, I am not afraid of ABVP, went viral on social media, prompting kudos as well as rape threats.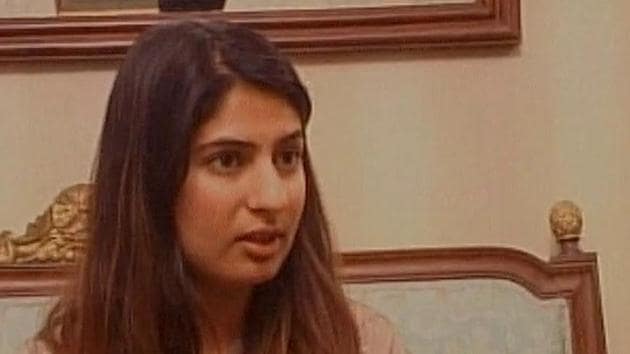 Updated on Feb 28, 2017 11:55 AM IST
Upright and academically very bright is how Gurmehar Kaur is described by her teachers and friends. They say they are swelling with pride over what she has done and condemned statements questioning her sense of nationalism. Daughter of a Kashmir martyr, Captain Mandeep Singh, Kaur is a first-year student of English honours at Lady Shri Ram College for Women.
Following violence at Ramjas College on February 22 when a clash broke out between two student groups, one led by Akhil Bharatiya Vidyarthi Parishad (ABVP) and the other by Left-leaning student body All India Students' Association (AISA), Kaur started a social media campaign. As part of the campaign, Kaur posted a profile picture in which she holds a placard reading "I am not afraid of ABVP". The campaign went viral and students from across the country joined her.
Kaur's uncle Davinderdeep Singh told HT that the family is traumatised by the vicious attacks on her, calling her anti-national. "We haven't said a word about this to my father who is very ill."
On Sunday night, 20-year-old Kaur alleged that she received rape threats after she changed her profile photo. Celebrities such as Virender Sehwag and Randeep Hooda also wrote against her and politicians attacked her.
On Tuesday, Kaur tweeted she would not participate in a protest march at the Delhi University and wished to be left alone.
Mitali Mishra, her teacher at the college, says she is surprised that Kaur's idea of nationalism is being questioned.
"We had our college fest on the day Punjab had elections. She missed the fest and went to vote. She told me how she could not miss her chance of exercising her right as a citizen for the sake of a fest. That's the kind of girl she is," said Mishra.
Kaur's family belongs to Jalandhar. A first bencher in all her classes, she calls herself an ambassador of peace.
Kaur made a peace video when she was in school. She used the video to say: "Pakistan did not kill my dad, war killed him. It took me a while to know, but today I do. I have learnt to let go of my hate."
Her father, Captain Singh, 30, was posted in 4 Rashtriya Rifles (RR) in Kupwara when militants stormed his camp in August 1999. He was killed in the gunbattle that followed. Kaur was just two. He called her Gulgul.
She is now being trolled for that old video which has left her friends and teachers surprised.
"People have nothing to say against Kaur so they are now using the old video. We instead think it was a beautiful video. She is doing what her parents have taught her and I am very proud of her," said one of her classmates, who did not want to be named.
Mishra also requested that people should not equate Kaur with Kanhaiya Kumar, the former JNUSU leader caught in sedition row and said her student does not belong to any political party and she is only fighting violence. "It is inhuman to call her anti-national".
Kaur had approached Delhi Commission for Women on Monday to complain against the threats she had been receiving. She told mediapersons later what she has started is not a political movement but a campaign against violence.
"We have not started a political movement. I want everyone to understand that. This is not about political parties but students and our campus being safe from violence and threats. No matter which organisation you are associated with, you cannot threaten women with rape. That cannot happen," she said.
(With inputs from Manraj Grewal Sharma from Punjab)
Close Story