Ramjas clashes: Kargil martyr daughter's tweet war against ABVP goes viral
Updated on Mar 06, 2017 12:17 PM IST
Gurmehar Kaur is a student of English (Honours) at Lady Shri Ram College. She is the daughter of late Capt Mandeep Singh, who died during Kargil war. Kaur started hash tag #studentsagainstabvp which has become viral on the social media.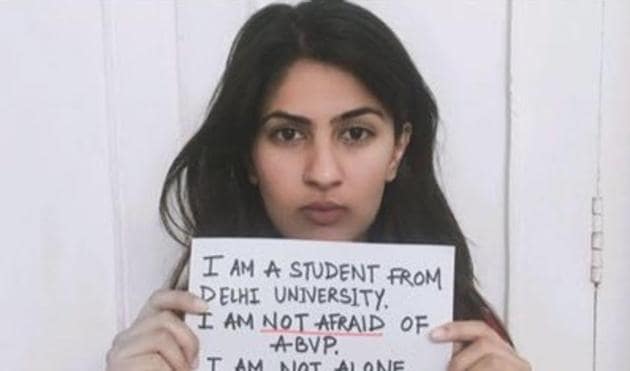 Hindustan Times |
, Jalandhar/new Delhi
HT Correspondent and IANS
Gurmehar Kaur, 20, social media message against violence on Delhi University campus over a literary fest at Ramjas College, has gone viral.
The English (Honours) student of Lady Shri Ram College is the daughter of late Capt Mandeep Singh, who died during Kargil war.. Kaur had launched a campaign against the Akhil Bharatiya Vidyarthi Parishad with the hashtag #StudentsAgainstABVP.
Kaur said she had no idea that her message would find so much resonance with the users of social media and get massive support.
Read: I raised slogans, but they were not anti-national: Ramjas teacher Mukul Mangalik
"I was not there at the spot where this horrifying incident happened, but when I got to know that some of my friends were injured during the clash and stones were pelted at them, I got so upset, I could not bear that and took to social media to register my protest," Kaur told HT.
She rejected the notion that it was a fight over nationalism. "The students who were attacked by ABVP were Indians and they call it nationalism. What kind of nationalism is this?"
Along with hundreds of congratulatory and supportive messages, Kaur had also been trolled by some. However, she took them on with courage.
"I had never imagined that I would get such a support from everyone but there is a lot of hatred too and that is personal which is not acceptable," she said.
Criticising some of the reactions that she is receiving over social media, Kaur in another tweet wrote: "Absolutely disgusted at the reactions in receiving from so called 'nationalists'."
In a series of tweets on Saturday, Kaur clarified that she supports the freedom of speech but not anti-national slogans.
Read: Ramjas teachers say climate of fear prevails, students come together
Kaur (@mehartweets) tweeted: "Am I fighting for people who support anti-nationals? NO! Who are fighting for? STUDENTS And our right to free speech, safe academic space."
The hash tag #studentsagainstabvp started by her has become viral in the social media and is getting wide support from students across India.
Kaur, on Wednesday, in a Facebook post wrote: "This profile picture is my way of protesting against the tyranny of fear. If you are a student in any Indian university, in any Indian state and you wish to protest against ABVP, then take a similar selfie and make it your profile picture. Use the hashtag #StudentsAgainstABVP and copy paste this message along with it."
She has posted a profile picture holding a placard with a slogan: "I am a student from Delhi University. I am not afraid of ABVP."
Read: Ramjas clashes: Delhi Police admits 'mistakes', transfers case to crime branch
"The brutal attack on innocent students by ABVP is very disturbing and should be stopped. It was not an attack on protestors, but an attack on every notion of democracy that is held dear in ever Indian's heart. It is an attack on ideals, morals, freedom and rights of every person born to this nation. The stones that you pelt hit our bodies, but fail to bruise our ideas," she wrote.
Clashes erupted between activists of the leftist All India Students Association (AISA) and the RSS-affiliated Akhil Bharatiya Vidyarthi Parishad (ABVP) outside Ramjas College on Wednesday, a day after the ABVP forced suspension of an event to be addressed by JNU student Umar Khalid, jailed last year for allegedly shouting anti-national slogans.
Close Story
Personalise your news feed. Follow trending topics