Ramjas teachers say climate of fear prevails, students come together
Feb 28, 2017 06:39 PM IST
A number of teachers said they had never imagined a situation where they would see their own students attacking them and the incident has left them both shocked and terrorized.
The February 21 stone pelting and protest at Ramjas College and the violence that followed the next day has left the teachers shell-shocked.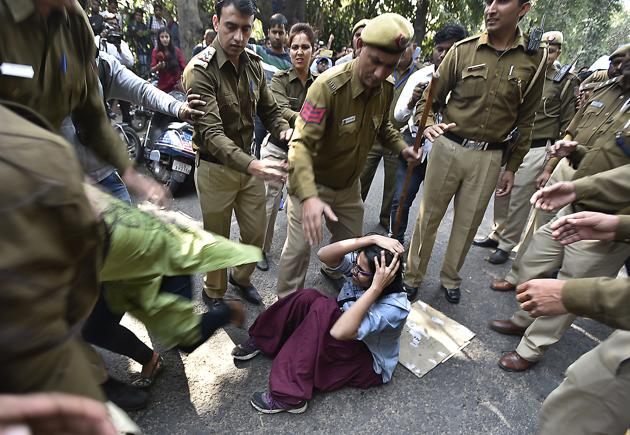 A number of teachers said they had never imagined a situation where they would see their own students attacking them and the incident has left them both shocked and terrorized.
Violence had erupted in Delhi University's Ramjas College on Wednesday when two student groups — one of which was led by Akhil Bharatiya Vidyarthi Parishad (ABVP), the student wing of RSS — clashed with each other during a protest over a literary event where JNU student Umar Khalid had been invited to speak.
One of the teachers, Prasanta Chakravarty, who teaches English at Ramjas, had been left battered and bloodied during the clash after being allegedly attacked by a group of students. Chakravarty had to be rushed to a hospital on Wednesday, from where he is expected to file a police complaint regarding the incident on Monday.
Chakravarty and a few other teachers on Friday said that there was an atmosphere of terror on campus after Wednesday's violence.
"Now I doubt anyone in Delhi University will want to hold seminars or conferences. The fear that even students can attack us will remain," said Chakravarty.
Another teacher, who was also a student of Ramjas College, said it was shocking to see students going violent on teachers.
"When we were involved in student politics, we often held protests. But we never went about disrespecting teachers," said another teacher of Rajdhani College.
Abha Dev Habib, who teaches physics at Miranda House, narrated how a student she had taught, hit her during the clash. "It did not matter to the girl that I was her teacher. It is important to see that Wednesday's clash was not about ABVP or AISA. Everything cannot be reduced into this binary of Left and Right and nationalism," said Habib, who is also the secretary of Left-leaning Democratic Teachers Front (DTF).
The National Democratic Teachers Front, a Right-leaning teachers group, also condemned the attack on teachers, but said anti-national activities cannot be allowed on campus.
"The Left wing's attitude on violence is hypocritical and deceitful. Whereas it condemns any militant opposition to its anti-national activities as suppression of free speech, they stand solidly behind stone throwers of Kashmir, behind murderous terrorists and separatists, Naxals and Maoists," said AK Bhagi, president NDTF.
A group of teachers were also concerned about the threats to Vinita Chandra and Mukul Manglik, both Ramjas College professors, who the ABVP accused of raising anti-national slogans.
Students have been putting up solidarity messages for the teachers and have asked former students of Ramjas to send endorsement mails for Chandra and Manglik by Friday night. On Saturday, there is a staff council meeting at Ramjas College to determine if action needs to be taken in the matter.
Certain departments of the Delhi School of Economics are also planning to wear black badges and hold slam poetry events on Monday in solidarity with the Ramjas students.
"We are yet to get permission from the head of department. This is our way to support the students of Ramjas and send a message to ABVP," said a student of MA sociology, Delhi School of Economics.
A student of Lady Shri Ram College (LSR) has started a social media campaign asking students from across the country to put up profile pictures in support of Ramjas College. The campaign is called #StudentsAgainstABVP.