Ramjas clash: Crime branch to probe violence on DU campus, 3 cops suspended
Feb 23, 2017 11:15 PM IST
ABVP members and students of Ramjas and other Left-wing outfits clashed near the college on Wednesday. The ABVP members had disrupted a literary festival at Ramjas, objecting to the invite to JNU's Umar Khalid and Shehla Rashid.
A day after students clashed near Ramjas College in Delhi University's North Campus, the Delhi Police suspended three police officers and transferred the case to crime branch for a "fair probe."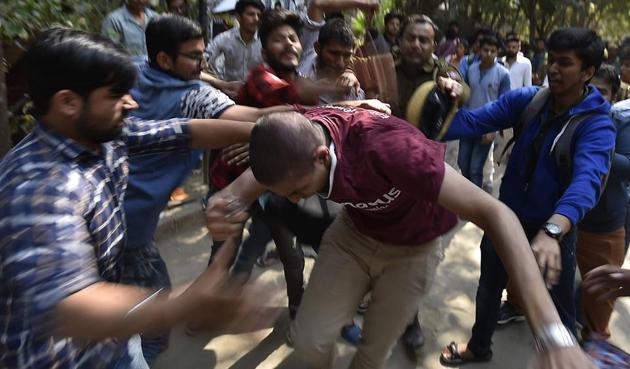 Head constables Raghunath and Ashok Tyagi, and constable Sachin, were suspended based on video footage and other information provided by students, said a senior police officer.
The action was taken after a joint protest by students from Delhi University (DU) and Jawaharlal Nehru University (JNU) at the police headquarters at ITO, seeking action against members of the Akhil Bharatiya Vidyarthi Parishad (ABVP) and Maurice Nagar police for the violence on Tuesday.
Read: Ramjas College protest highlights: Clashes between ABVP, DU students, cops crack down
A section of students from DU and JNU had alleged on Wednesday that Maurice Nagar police station — which has jurisdiction over Delhi University— shielded the ABVP "hooligans" engaged in the campus violence.
SBK Singh, special CP (law and order), said that he will not entrust the investigation with Maurice Nagar police station and that Crime Branch will probe the case.
"Delhi Police will invite a public notice soon. Thereafter, students can submit their complaints to the police. The evidence will be attached to one FIR," said Singh. Police said students could provide information related to the incident to the Crime Branch DCP.
An FIR related to the incident had been lodged at the Maurice Nagar police station on Wednesday. However, the protesting students were unhappy as they wanted all the victims of Tuesday's violence to be allowed to file separate FIRs.
Singh said police had conducted medical examination of 25 injured persons, including students from ABVP and AISA, as well as eight policemen. He said he was not aware who ordered a lathi charge on students and others at the campus.
Read: Ramjas clashes: Delhi Police admits 'mistakes', transfers case to crime branch
The officer said he regretted the attack on the media and promised to suspend the guilty police personnel. "I have asked some journalists to give me video footage of the lathi charge, so that we punish the guilty," he said.
Reacting to the incident, Delhi Police spokesperson Dependra Pathak said, "We agree that there were mistakes from our men. The incident could have been handled in a better way. There was no need to snatch mobile phones. We have told all the police officers that if people make videos, let them do it," he said.
Pathak said that the officers on duty were told not to use force against the students.
The two-day event at Ramjas College on Tuesday and Wednesday was cancelled after ABVP forced the organisers to withdraw the invite to Ummar Khalid, dubbing him "anti-national".
Earlier on Thursday, the Delhi Police also said that it had constituted a committee comprising additional DCPs and other senior officers to look into the allegations of cops assaulting students and journalists during the protest outside Ramjas College on Wednesday. The protest had turned violent as two groups of students, one led by ABVP members and the other led by members of AISA and SFI, clashed. Both the sides had lodged cross complaints and sought action by the police.
Read: ABVP ends campus protest, says 'won't allow JNU repeat'
It was alleged that the Delhi Police stood and watched as violence marred a peaceful protest because of which teachers, students and journalists were wounded and mobile phones were snatched by police on Wednesday.