Ramjas clashes: Delhi Police admits 'mistakes', transfers case to crime branch
Mar 06, 2017 07:25 AM IST
The Delhi Police transferred the case of campus violence to crime branch and officials said a committee has been formed to look into allegations of assault on students, teachers and journalists by ABVP during protest near Ramjas college.
A day after students clashed in Delhi University's North Campus, the Delhi Police transferred the case to the Crime Branch and admitted that the incident could have been handled better. The move to transfer the case followed a joint protest by students of All India Students Association (AISA) from DU and Jawaharlal Nehru University (JNU) at the police headquarters at ITO, seeking action against members of the Akhil Bharatiya Vidyarthi Parishad (ABVP) for the violence on Tuesday.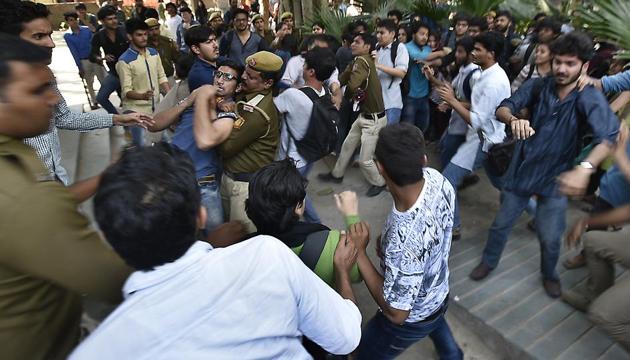 "Delhi Police will invite a public notice soon. Thereafter, students can submit their complaints to the police. The evidence will be attached to one FIR," said Special CP (law and order), SBK Singh. Police said students could provide information related to the incident to the Crime Branch DCP.
An FIR related to the incident had been lodged at the Maurice Nagar police station on Wednesday. The protesting students were unhappy as they wanted that all the victims of Tuesday's violence should be allowed to file separate FIRs.
Earlier on Thursday, the Delhi Police also said that it had constituted a committee, comprising additional DCPs and other senior officers, to look into the allegations of cops assaulting students and journalists during the protest outside Ramjas College on Wednesday. The protest had turned violent as two groups of students, one led by ABVP members and the other led by members of AISA and SFI, clashed. Both the sides had lodged cross complaints and sought action by the police.
Read: Ramjas clashes: ABVP ends campus protest, says 'won't allow JNU repeat'
It was alleged that the Delhi Police stood and watched as violence marred a peaceful protest because of which teachers, students and journalists were wounded and mobile phones were snatched by police on Wednesday.
Reacting to the incident, Delhi Police spokesperson Dependra Pathak, said: "We agree that there were mistakes by our men. The incident could have been handled in a better way. There was no need to snatch mobile phones. We have told all the police officers that if people make videos, let them do it," he said.
Pathak said that the officers on duty have been told not to use force against the students.