I raised slogans, but they were not anti-national: Ramjas teacher Mukul Mangalik
HT on Friday caught up with the history professor, who described Wednesday's violence as a continuation of what happened at Jawaharlal Nehru University.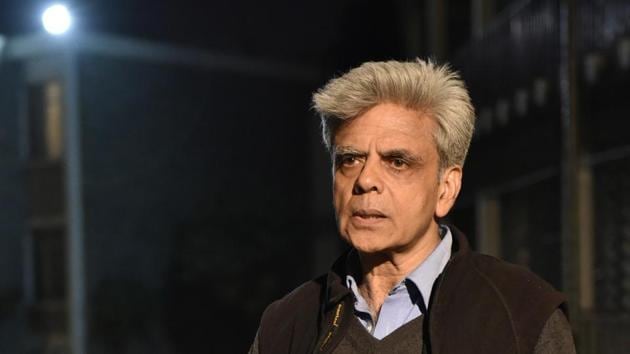 Updated on Mar 04, 2017 07:55 AM IST
On Wednesday two groups of students — one of which was led by Akhil Bharatiya Vidyarthi Parishad (ABVP), the student wing of RSS — clashed with each other during a protest over a literary event where JNU student Umar Khalid had been invited to speak.
Later, there were also reports that some students had come searching for Mukul Mangalik, an associate professor at the history department of Ramjas College. The students apparently wanted to threaten Mangalik for raising anti-national slogans.
HT on Friday caught up with the history professor, who described Wednesday's violence as a continuation of what happened at Jawaharlal Nehru University. He said a section of students were not ready to listen to other side's ideology at all. Excerpts from an interview
Q:What exactly happened on the day? There are allegations that you raised anti-India slogans?
We were shocked after the college was forced to call off a seminar amid heated protests against an invite to Jawaharlal Nehru University (JNU) students Shehla Rashid and Umar Khalid. We in Ramjas College have always stood for dialogue and discussions, even if there is a disagreement. So, we took out a protest march in the college during which I along with other students did raise slogans like "Hume chahiye aazadi, gundagardi (hooliganism) se aazadi, dehshatgardi (terror) se aazadi."
Q:There are also allegations that you raised slogans like "Bastar mange aazadi , Kashmir mange aazadi" (Bastar and Kashmir demand freedom).
No, I did not raise any such slogans. These are all false allegations. But I need to put things in context. Even if such slogans were raised by some students, which I am not aware of, it would have been done to mean an end to exploitation of tribals and minorities in these regions. This nowhere means that these two regions should not be a part of India.
Q: The aazadi slogans are resonating in college campuses of Delhi.
As a teacher of Ramjas College's history department, we have always taught our students to question and not take things on face value. Our Constitution allows us to hold peaceful protests. So slogans like gundagardi (hooliganism) se aazadi, bhukhmari (starvation) se aazadi, garibi (freedom) se aazadi, when raised, are not anti-India at all. Is it unfair to demand a starvation-free, peaceful life for Indians?
Q: Why do you think friction between students of two ideologies has reached this level?
In the past couple of years an impregnable wall has been created, where a section of students have become so intolerant that they are not ready to listen to anything. I have always taught students that my views with you on certain matters may differ and that is okay. I have told them that if there is violence, then they should always take a side that is against the perpetrators of such violence. Sadly, we still witnessed a section of students indulging in violence on Wednesday.
Close Story