The nation hears me now, says Umar Khalid as forced peace descends on DU
Forced peace descended on Delhi University's North Campus on Thursday after a day of unrest in which rival groups clashed over an invite to two controversial student leaders to speak at a seminar at Ramjas College.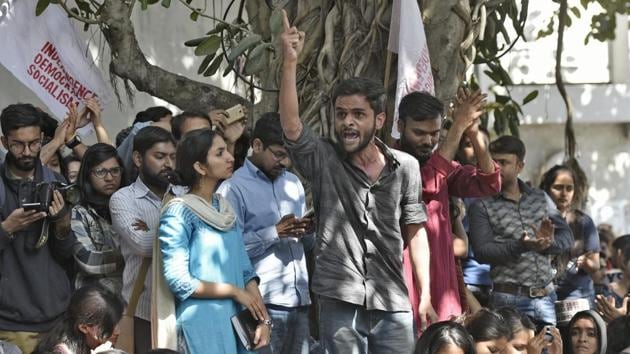 Updated on Feb 28, 2017 06:38 PM IST
Forced peace descended on Delhi University's North Campus on Thursday after a day of unrest in which rival groups clashed over an invite to two controversial student leaders to speak at a seminar at Ramjas College.
Police suspended three of their men who reportedly helped the protesters in the violence. Sources said some of the cops deployed on the campus on Wednesday tossed stones to groups of youth throwing brickbats and blows at students and teachers during a protest march.
The unrest brought Jawaharlal Nehru University (JNU) student leader Umar Khalid — whose invitation to the seminar provoked the violence — back to the limelight.
"If I would have spoken at Ramjas, only a handful of people would have heard me. Because of the furore, the nation is hearing me now," he said, taunting his rivals for the free and unnecessary publicity.
Khalid, a PhD student and former member of the ultra-radical Democratic Students Union, was arrested last year on charges of sedition for a rally at JNU in which anti-India slogans were allegedly heard.
He remained defiant. "Police have not even been able to file a charge-sheet against me and yet they say I am an anti-national and have links with terrorist organisations."
He was referring to the RSS-backed ABVP, which protested against the invite to him and fellow JNU student Shehla Rashid. The event, which was part of the college literary festival, was cancelled after the protest on Tuesday and teachers complained that stones were thrown at the auditorium.
The ABVP members vowed they will not allow "anti-nationals" to turn DU into JNU.
"Even in the future, if anyone does any such thing, we will raise the issue and protest," said Satendra Awana, ABVP member and former Delhi University Student Union president.
The right-wing student group alleged that it has videos of students and teachers shouting anti-India slogans during Tuesday's demonstration.
They found support from Union junior home minister Kiren Rijiju, who said freedom of expression in the country does not give the right to make college campuses a base for anti-national activity.
"We shouldn't convert any college into an anti-India hub. We shouldn't make statements, which will harm national interest. We have fundamental rights but fundamental duties are also there to be adhered to," Rijiju said.
Miffed at the ABVP's alleged high-handedness, members of Left-wing student outfits and Ramjas students and teachers organised a protest march on Wednesday afternoon. But students owing allegiance to the ABVP swooped down on the marchers.
Several students, teachers and journalists were assaulted in the scuffle that continued for hours. A posse of policemen made a feeble attempt to control the situation and detained some of the protesters, but some of the cops took sides. It became evident when three of them were found guilty of abating the violence and suspended on Thursday.
Also, cops have been accused of confiscating and destroying mobile phones of journalists and students making videos or taking pictures of the punch-up.
"We agree that there were mistakes by our men. The incident could have been handled in a better way. There was no need to snatch mobile phones. We told our officers that if people make videos, let them," said Delhi Police spokesperson Dependra Pathak.
Police had registered a case of rioting against unknown people, which gives an escape route to those involved in the clashes that sent several students to hospital with broken bones and deep bleeding injuries.
The case was transferred to the crime branch after students protested that the cops at Maurice Nagar police station are biased.
Almost 300 students from Delhi University and JNU demonstrated outside the Delhi Police heardquarters at ITO, demanding that they be allowed to file individual FIRs against ABVP members.
Special commissioner (law and order) SBK Singh said they will publish a notice after which students can submit their complaints. The complaints and evidence will be put together to form a single FIR.
Human resource development minister Prakash Javadekar sought a report from the university over Wednesday's violence, though in the morning he said "the government will not intervene, as DU is an autonomous institution".
The campus was turned into a fortress with heavy police deployment. No classes were held at Ramjas College. The official reason for suspended classes was a flower show at the university.
Close Story