Menstrual awareness workshops: Breaking stereotypes in co-ed govt schools
Nov 25, 2018 10:47 AM IST
As many as 30 co-educational government schools have approached the Sachhi Saheli NGO this year to organise workshops in order to sensitise students about menstruation.
For most part of the 14 years of his life, Priyanshu Singh, a class 9 student of Rajkiya Pratibha Vikas Vidyalaya in Yamuna Vihar, had no clue why his female friends complain about mood swings and abdominal pain for a day or two every month. Whenever the girls declined to participate in sports activities, he would mock and even crack jokes at their expense.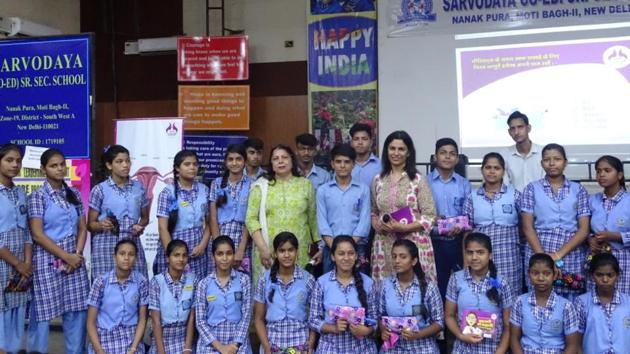 But all of that changed this September.
That was when Singh understood that it happens when the girls are either going through premenstrual syndrome (PMS) or on their monthly period cycle. "While I knew what periods are, I was unaware about the difficulties women face when they are on their natural cycle. I used to laugh at my friends when they would complain about stomachache and mood swings. Now, I understand that mood swings are because of the PMS and it's normal to have stomach pain while they are on their periods," he said.
The change in mindset and the awareness was only possible because the school organised a workshop on 'menstrual awareness' in collaboration with non-governmental organisation (NGO) Sachhi Saheli. "It was overwhelming to see the students, especially boys, asking menstruation-related queries with so much confidence. At the end of the workshop, the boys distributed packets of sanitary napkins among girls without any hesitation and pledged to make the campus period-friendly," RP Singh, principal of the school, said.
Now, the school is planning to organise a workshop for parents as well. "Most of these students come from families where such discussions are prohibited. We are planning to organise a workshop for parents to sensitise them and encourage them to discuss these topics with their children," he said.
But their school is not an exception.
As many as 30 co-educational government schools have approached the NGO this year to organise workshops in order to sensitise students about menstruation. Till July this year, the NGO was conducting these workshops only in all girls' schools. "We wanted to impart basic education about menstruation to students studying in government schools. We had contacted the Directorate of Education (DoE) last year and briefed them about our plan. The DoE gave us permission to conduct these workshops in girls' schools running under the Delhi government and the civic bodies. But, this year we started receiving requests from co-ed schools as well. We have already covered around 10 co-ed schools in the last four months and it has turned out to be a wonderful experience," said Dr Surbhi Singh, a gynecologist and founder of Sachhi Saheli.
During the workshops, the students are told about the science behind menstruation and the myths surrounding it. The girls are also taught basic hygiene that should be maintained during periods. "We do not discuss about menstruation with boys at home or school and still expect them to be sensitive and supportive. It's very important to remove stigmas and taboos attached to periods from their minds. That's why we show them sanitary napkins and explain the importance of their use. We also tell boys about the physical and mental strains girls go though during their menstrual cycle," Singh said.
At another co-ed school in Nanakpura, a class 10 student Sagar Malik said he gifted his mother a pack of sanitary pads after attending the workshop. "I had come to know about the issues women face in case they use cloth instead of sanitary pads during their periods. I requested the teacher in charge at my school to give a packet for my mother because I did not know what she uses. I have never heard anything about menstruation at home. When I gave her the packet, she looked shocked. But when I told her what I had learnt at school, she looked happy and relieved. She even called me a Padman," the 14-year-old said.
Meanwhile, a group of boys at a government co-ed school in Vasant Kunj has pledged to educate people in their localities about "menstrual health". "We have decided to go from door to door in our localities and tell people the importance of maintaining hygiene during periods to avoid infections," said Lalit Singh, one of the students.
Girls, too, are happy with the change.
Divya Singh, a class 9 student at a school in Janakpuri, said she used to bring a 'black polythene bag' to carry the packet of sanitary napkins the school distributes under the Centre's Kishori Shakti Yojna. The girls in her school would collect their packets from the medical room after classes got over. Under the Kishori Shakti Yojna, girl students, between the ages of 11 and 18, are distributed a sanitary napkin packet every month in government schools across the country.
However, Singh and her classmates have now asked the teacher to distribute the pack of sanitary napkins in the classrooms. "We had never uttered the word period in the presence of our male classmates before. It was the first time when a group, having more boys than girls, was sitting and discussing the myths and taboos attached to menstruation. Things have comparatively changed. Now, we do not have to think hundred times before talking about periods in school at least like we have to do at home," she said.
According to a survey published in Journal of Family and Community Medicine (JFCM) in September, 40% girls remained absent from school during their menstruation for reasons such as lack of privacy at school, source of information on menstruation and anxiety about leakage, and staining of their uniform. The survey was conducted on 600 girls studying in government schools in Delhi.
Experts say it's important to impart basic knowledge about menstruation at schools. "It's important to make both make both genders aware of the science behind menstruation. While for girls, good menstrual hygiene can help prevent any kind of pelvic inflammatory diseases and infections, such talk sessions are equally important for boys to remove all the taboos and preconceived notions about periods. They should understand that it's a part of a girls' life and absolutely normal," said Dr Anuradha Kapur, a senior gynecologist at Max hospital in Saket.
Sanjay Goel, director of the DoE, said the government will encourage more co-ed schools to come forward and organise such workshops.