Now, Humayun's Tomb dome to be lit up all year long
Sep 05, 2018 03:20 AM IST
The monument's restorer has installed around 800 energy efficient lamps at 16th-century mausoleum of the Mughal king.
The grand white marble dome of Humayun's Tomb will shine bright at night throughout the year with the monument's restorer installing around 800 energy efficient lamps at 16th-century mausoleum of the Mughal king.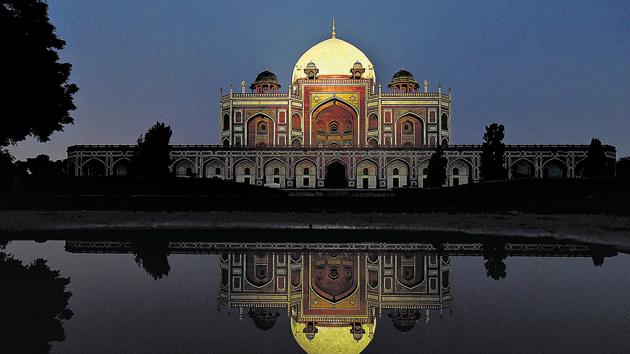 Beams of LED luminaires, directed from the bottom towards the top, will mimic moonlight effect enhancing the structures aesthetics. The dome will remain lit up for five hours after sunset every day.
LED bulbs have replaced high energy consuming halogen light fixtures, which were installed at the sepulchre in 1999. New lights at the monuments will reduce the power consumption by 90%, said Ratish Nanda, chief executive officer (CEO) of Aga Khan Trust for Culture (AKTC) — which restored the monument. He said illumination of the dome was a challenge because lighting had to be designed in a way to prevent any shadow on its surface.
"The structure is now visible from all directions Nizamuddin bridge (east), Barapullah elevated road (south), Zakir Husain Marg flyover (north), and Lodi Road flyover (south). The illuminated dome will enhance the skyline of the city. Havells India Limited has borne the entire cost of the lighting fixtures as part of their corporate social responsibility (CSR) programme," said Nanda.
In 1997, AKTC took over restoration of Humayun's Tomb, the first garden tomb in Indian subcontinent built in 1570. So far, the trust has restored 50 ancient structures in its vicinity and adjoining Nizamuddin Basti, including Sundar Nursery complex and Batasheywala tomb.
The restoration of Humayun's Tomb, a world heritage site, was completed in 2013. The finial on the dome was knocked down during the storm in 2014, which was also successfully replaced with similar designed gilded hip knob two years later.
Keeping in mind the safety of the heritage building and visitors, the lights are fixed 100 metres away from the main structure. Soon, timers will be installed so that lights will switch off automatically, Nanda said.
"The fixtures have been installed in a manner that the historic character of the site is not compromised for day time visitors. The electric cables have been laid outside the tomb's enclosed walled garden to ensure that no damage is done to the underlying archaeological structure," said Nanda.