Air quality in Delhi dips, may worsen over weekend
Stubble fires in Haryana and Punjab as farmers get ready to sow winter crops, and a possible single-day firecracker spurt on Diwali is expected to lead to prolonged 'severe' conditions, particularly in the National Capital Region, experts say.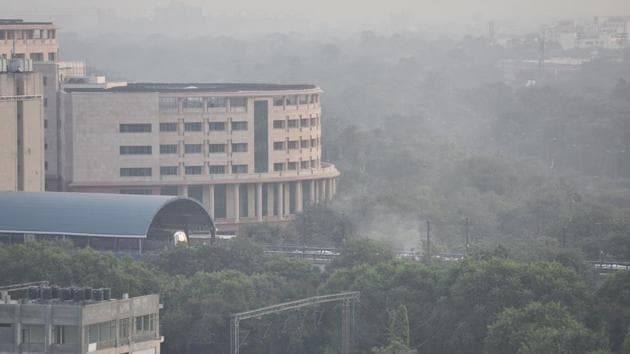 Updated on Oct 20, 2018 08:30 AM IST
Hindustan Times, New Delhi |
Jayashree Nandi
Air quality in the national capital dipped Saturday morning with PM 10 level at 267 and PM 2.5 level at 226, both in 'Poor' category on Air Quality Index (AQI), at Lodhi Road.
A senior official of the Central Pollution Control Board (CPCB) said air quality may worsen over the next couple of days due to the combined effects of burning of effigies on Dussehra, stubble burning and low wind speed in Delhi.
Air pollution across north India has started to peak, either nearing or breaching 'very poor' levels in benchmark cities such as Delhi, Kanpur and Lucknow, according to experts from multiple government and private organisations that monitor the region's annual meteorological and public health nightmare in the winter months.
The trend is likely to rise over the next three weeks leading up to Diwali, they said.
Though untimely rain in September delayed the spike in pollution by two weeks as compared to the last few years, falling temperature, slower wind speeds, stubble burning in Haryana and Punjab as farmers get ready to sow winter crops, and a possible single-day firecracker spurt on Diwali is expected to lead to prolonged 'severe' conditions, particularly in the National Capital Region (NCR), the experts added.
The first signs of the spike were visible in Nasa satellite images on Friday that showed high aerosol optical depth over the northern states and the Himalayan foothills in the past couple of days.
The images, tweeted by Ashim K Mitra, a scientist from the satellite meteorology division of the India Meteorological Department (IMD), are particularly telling because AOD is an indirect proxy for air quality since solid and liquid particles in polluted air block sunlight and lead to smog.
"Northern India and the foothills are affected by high aerosol levels. Unless there are strong winds to drive these aerosols away, they will remain accumulated. During Diwali, the situation will obviously deteriorate further unless strict restrictions are placed on firecrackers," said an IMD scientist who asked not to be named.
Officials in the CPCB said on Friday that they have not restricted the use of firecrackers this year because they are awaiting a Supreme Court verdict on a petition calling for a nationwide ban on the sale and use of firecrackers during Diwali.
"We haven't planned anything on firecrackers yet because we are waiting for Supreme Court order on a nationwide firecracker ban. We are anyway not responsible for the sale of firecrackers - it's the respective state governments. Once the SC delivers its judgment, we will monitor the improvement in air quality during Diwali. We can also issue advisories based on SC judgement," said a senior CPCB official on condition of anonymity.
The Delhi-based petitioners — Arjun Gopal, 3, Aarav Bhandari, 3, and Zoya Rao Bhasin, 5, and their parents -- expect the judgment any day now. "Many judges have heard our petition and have been extremely concerned about pollution from fire crackers. While the SC judgment is awaited, I think every citizen has the responsibility to not contribute further to air pollution and expose our kids to dirty air," said Aarav's father Amit Bhandari.
Last October, the Supreme Court suspended the sale of firecrackers in Delhi-NCR till November 1 to in the run up to Diwali which was celebrated on October 19 in 2017. But the use of firecrackers in the city was still rampant on Diwali day, according to an analysis by the Centre for Science and Environment (CSE) of CPCB data. The average PM2.5 concentration during Diwali and the morning after (12pm–12am, October 19-20) was 397 microgramme per cubic metre -- 6.6 times higher than the safe limit and is in the 'emergency' zone. The day before Diwali (October 18), the 24-hour average was 184 microgramme per cubic metres.
"There should have been a longer term strategy of sensitising people and implementing a ban on firecrackers. Agencies cannot wake up when Diwali is just round the corner. Firecrackers cannot be dealt with only command and control. You need to prepare people for it. Last year also there was a ban but there was no implementation strategy so we didn't see good results," said Anumita Roy Chowdhury, executive director, CSE.
Last year, the pollution levels in Delhi remained in the 'severe' zone (over 401 on the air quality index) for nine days, leading to Delhi chief minister Arvind Kejriwal describing the city as a "gas chamber" and declaring a public health emergency. It also led to extreme measures under the Graded Response Action Plan (Grap) for pollution, from ban on pollution industries, to the entry of trucks, to a threefold hike in parking fees in government lots, at different times during the winter. But the battle against one important factor behind pollution levels in the city – the burning of stubble in neighbouring states – is far from over.
Nasa images on stubble burning in north India collated by scientists at the University of California, Davis Policy Institute for Energy, Environment and Economy show there were 2,056 fires in Punjab and 1,985 in Haryana between September 18 and October 19 this year. During the same period last year, there were 7,040 fires in Punjab and 2,698 fires in Haryana, but that was partly because the paddy harvest occurred a fortnight earlier in 2017 due to a shorter monsoon.
"There is no significant improvement in stubble burning this year because AQI in the Indo-Gangetic plains region is quite bad already, unlike what Haryana and Punjab governments have claimed. There are a large number of fires across the border too," said Sadanand Wachche, researcher at the UC, Davis Policy Institute for Energy, Environment and Economy.
Over half (54%) of chronic obstructive pulmonary disorder (COPD) cases in India are attributable to indoor and outdoor air pollution, according to a recent Lancet Global Health research paper. This makes the air we breathe as bad as smoking, depending on our proximity and exposure to pollution sources.
Topics
Close Story