Five gang members arrested after 30-minute shootout in Dwarka, weapons seized
Updated on Nov 21, 2017 11:44 PM IST
Delhi Police was approached by Punjab Police on Tuesday morning with information about suspected criminals hiding in a residential building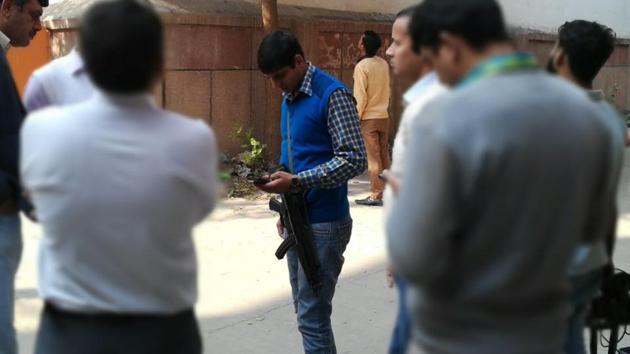 Hindustan Times, New Delhi |
, New Delhi
Shubhomoy Sikdar and Shiv Sunny
A joint team of Delhi and Punjab Police on Tuesday arrested five members of Punjab's infamous Lawrence Bishnoi gang after a 30-minute gunbattle in south-west Delhi's Dwarka on Tuesday and recovered a huge cache of arms and ammunition.
Police said no one was injured despite multiple shots being fired by both the sides in a residential neighbourhood that is located close to Dwarka Mor Metro station.
A sixth member of the gang, Toni, managed to give the joint team of Delhi and Mohali Police a slip by climbing down through the window of the house on second floor using a curtain. The man was later seen in CCTV footage fleeing the spot with a gun in hand.
Senior superintendent of police (SAS Nagar, Punjab) Kuldeep Singh Chahal identified the arrested men as Deepak, Tiku, Krishan and two other men who went by the name of Sumit.
"We have recovered 17 firearms, mostly pistols and rifles of different bore sizes, and more than a 100 cartridges. These men were wanted in at least three cases of murder or attempts to murder in Punjab," said Chahal.
Locals said the alleged gangsters were staying in one of the houses in the three-storey building for the last one month.
Lalit, a local tea vendor, said that the quiet neighbourhood was jolted awake by the sound of gunshots around 11.30am. He said that right before the firing started, three vehicles full of policemen had arrived outside the building. Soon gunshots rang across the neighbourhood, spreading fear and panic among the residents.
According to the police, they first went upstairs and told the occupants of Flat Number 204 to surrender. However, the men inside the flat opened fire.
"Soon, policemen cordoned off the building and started returning fire. Several rounds were fired by both the parties. The policemen took positions in and around the building and intermittent sounds of gunfire could be heard every few minutes. The firing lasted for at least 30 minutes before the police team could go inside and overpower the suspects," said Amit Gandhi, who lives in another building in the vicinity and claimed to have had watched the gun battle from his terrace.
Others, including those residing in the area and passers by, either ducked for cover or curiously watched on as soon as the shootout began.
In the middle of all the action, one of the suspects, later identified as Toni, managed to slide down from one of the windows to a Delhi Metro Rail Corporation office, which shares boundary with the building, and escape.
A Delhi Police team joined the Punjab Police personnel in the operation but DCP (south-west) Shibesh Singh said their role was only peripheral.
The operation against the suspected criminals was initiated by the Punjab Police who approached their counterparts in Delhi on Tuesday morning. The local district police assisted them in the operation.