The PM who put Delhi Metro project on the fast track, launched it
Aug 18, 2018 03:27 AM IST
The first section of the Delhi Metro between Shahdara and Tis Hazari (now Red Line) was inaugurated by Vajpayee on December 24, 2002
"Please implement it immediately" was his prompt response when then Prime Minister Atal Bihari Vajpyee was told that the Delhi Metro project has been stalled for years, recalled former Delhi chief minister Sheila Dikshit.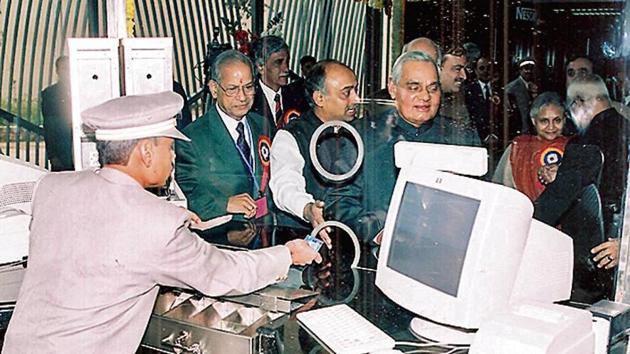 Dikshit's first term as Delhi chief minister coincided Vajpayee's third as prime minister. Recalling her several meetings with Vajpayee at his official residence and office, the 80-year-old Congress leader said she always got support from him for whatever was required for the development of the city at that time.
"The biggest of them was Metro. All this was done, on our request, at the initiative of the PM (Vajpayee). Metro project was lying (on the backburner) for a long time. The plan was already there but was not being implemented. Atalji said one sentence, 'please implement it immediately'," she recalled.
And the journey began.
The first section of the Metro between Shahdara and Tis Hazari (now Red Line) was inaugurated by Vajpayee on December 24, 2002. It opened for public use the next day, which happened to be the former prime minister's birthday.
When he reached Kashmere Gate Metro Station, Vajpayee had two hundred rupee notes. "Vajpayeeji insisted on paying for his ride. He purchased a smart card from the ticket counter in the presence of other senior dignitaries who had come for the inauguration. He then travelled from Kashmere Gate to Seelampur on the train where he inaugurated Metro's first ever section from Tis Hazari to Shahdara," said Anuj Dayal, the executive director, corporate communication, Delhi Metro Rail Corporation (DMRC).
Although the mass rapid transit was conceptualised as early as the 1960s, it got in-principal approval only in 1994. The Metro project was formally sanctioned in 1996, a year after the Delhi Metro Rail Corporation (DMRC) was set up. But the work did not begin till it got a political push, mainly from the Prime Minister's Office.
"Vajpayeeji returned to inaugurate second section of the Red Line about a year later on October 3, 2003. His actions spoke louder than his words. He very gracefully agreed for a group photo with senior officials of DMRC," said Dayal.
Despite being political opponents, Dikshit remembers her working relationship with Vajpayee has "most cordial".
"Personally also, I was on good terms with him. I knew him for long, even when he was not the PM. He was quite close to my father-in-law (Congress leader Uma Shanker Dikshit) ," she said.
Dikshit said Vajpayee never said 'no' to anything that was meant to benefit Delhi. "Be it privatisation of power, CNG for public buses or implementation of the Metro project. We are grateful that he understood the problems of the city and provided his support to make Delhi a better city," the three-term Delhi chief minister said.
"I had several meetings with him in which I used to explain the details of the works. I must say whenever we asked for time from him, we got it promptly. He never interfered in our work. There was no difference of opinion as far as Delhi's development is concerned," Dikshit said.
At the end of 2013-14, when Dikshit demitted office after the Congress lost the assembly polls to the Aam Aadmi Party (AAP), the Metro network in Delhi had grown to 190 km with seven interchange stations.