Woman forces 13-year-old niece to drink, lets her boyfriend rape the child in Delhi
Apr 25, 2018 05:01 PM IST
Police on Tuesday said the girl had to be hospitalised for 24 hours, but was now out of danger and had been discharged from the hospital.
A woman lured her 13-year-old niece and forced her to get drunk before letting her boyfriend rape the child in a wooded area in outer Delhi's Shahbad Dairy on Sunday night, police said.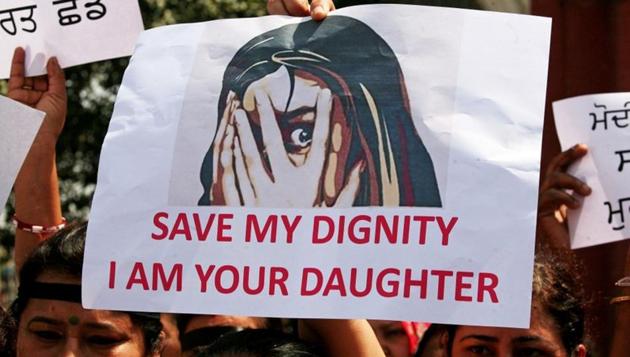 The incident took place on a day when the President promulgated an ordinance, approving death penalty for the rapists of those below 12 years following a nationwide outrage over brutal rapes with two minor girls in Kathua and Unnao.
The sexual assault left the girl bleeding, which caught her father's attention. She was rushed to Baba Saheb Ambedkar Hospital where doctors informed her father that the child had been raped. Police on Tuesday said she had to be hospitalised for 24 hours, but is now out of danger and has been discharged from the hospital.
Rajneesh Gupta, deputy commissioner of police (Rohini), said the 30-year-old woman has been arrested and sent to jail. The alleged rapist, Mukesh Kumar, a man in his late 30s, is on the run.
Gupta said a case has been registered under Indian Penal Code sections 376 (rape), 328 (causing hurt by intoxicating substance with intent to commit an offence), 506 (criminal intimidation) and 120B (criminal conspiracy). The duo has also been booked under Protection of Children from Sexual Offences (POCSO) Act.
"The girl's mother has abandoned the family and the child lives with her father in Shahbad Dairy. Her aunt lives in the same neighbourhood and would care for the family in the absence of the girl's mother. The woman is in a relationship with Mukesh, who drives a mini truck for a living," said an investigator.
On Tuesday night, the woman allegedly lured the girl to her home before walking her to a forested area nearby. Mukesh had arrived in his mini truck.
"The woman tried to trick the girl into drinking alcohol by mixing it with soft drinks. When the girl refused to drink, her aunt forced her. The woman and Mukesh too were drinking," said the investigator.
"Once the girl was inebriated, Mukesh raped her even as the woman stayed around. The woman knew of the rape and we suspect it was pre-planned. That is why we have added the IPC section pertaining to criminal conspiracy," said the officer.
The girl was let off after sometime and she walked back to her home. "On Monday morning, the girl's father saw her bleeding and in pain. When he learnt from the doctors that his daughter had been raped, he informed the police," said the officer.
A police team from Shahbad Dairy police station has been sent to Bihar to search for Mukesh.