AAP, BJP exchange barbs over 'missing' SIT file on 1984 riots
A circular stating that a file related to the constitution of a Special Investigation Team to probe the 1984 riots was missing surfaced on Friday, following which the BJP accused the AAP government of having no concern for important files and trying to shield Congress leaders "whose names must be in the secret file."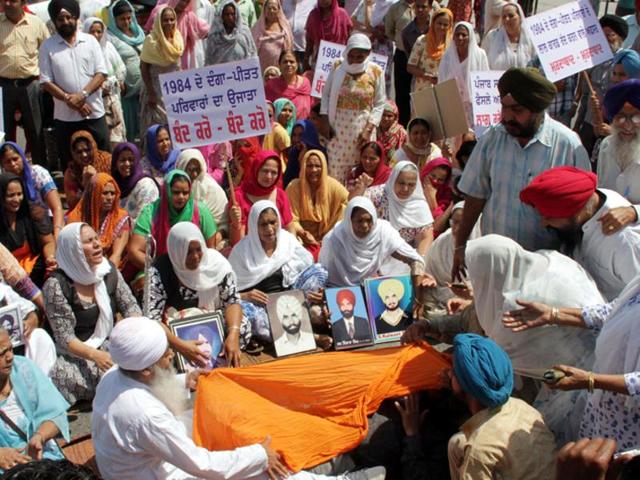 Updated on Jan 23, 2016 01:17 AM IST
The Aam Aadmi Party and the Bharatiya Janata Party traded charges on Friday after it emerged that a file related to the constitution of a Special Investigation Team to probe the 1984 riots was allegedly missing.
A circular stating that the file was missing surfaced on Friday, following which the BJP accused the AAP government of having no concern for important files and trying to shield Congress leaders "whose names must be in the secret file."
The Delhi government, however, rubbished the charges.
"A circular was issued by a deputy-secretary level officer on January 8. When mediapersons started calling the minister, he asked for the file. It was produced before him," a government spokesperson said, adding that the file was not missing at all.
The AAP spokesperson also said the BJP was trying to unnecessarily create confusion.
"The Shiromani Akali Dali and the BJP government at the Centre have done nothing to ensure justice for the 1984 massacre victims. Now, they are trying to create an atmosphere of confusion by resorting to rumour mongering. The attempt to scandalise the false news about a file going missing in Delhi Secretariat was aimed at creating confusion," said senior party leader Ashutosh.
AAP MLA from Rajouri Garden Jarnail Singh also accused the BJP of denying justice to the riot victims.
"The Modi government kept sitting on the decision for a year and announced the formation of the SIT only after the Aam Aadmi Party won the elections. Now Mr Modi needs to tell the nation why his SIT that was supposed to file its report in six months' time has not done so. How long does Mr Modi want Sikhs to wait for justice to be delivered," he said.
The BJP, meanwhile, said the claims that the file had been found were false.
BJP's RP Singh said, "It is an eye wash and the Kejriwal government should immediately call a meeting of senior Sikh leaders of all political parties to present the file, as we have all the reasons to suspect that the Kejriwal government is trying to mislead the Sikh community about the status of the file," he said.
Close Story
Personalise your news feed. Follow trending topics