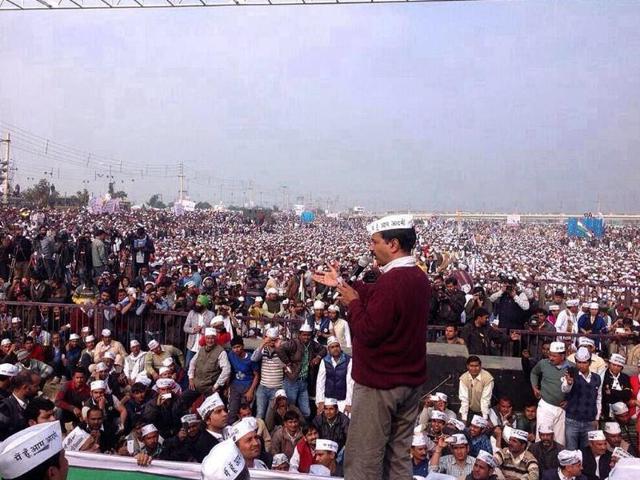 AAP's battle plan takes shape, candidates get a head start
In a rerun, the Arvind Kejriwal-led party — now considered a major political force — has again left its rivals behind by being the first to announce all seven candidates for the April 10 Lok Sabha elections.
Hindustan Times | By Darpan Singh/Nivedita Khandekar
UPDATED ON MAR 12, 2014 02:38 AM IST
In the December 4 assembly elections, the fledgling Aam Aadmi Party (AAP) had managed to upstage its heavyweight rivals, the Congress and the BJP, in electioneering. In a rerun, the Arvind Kejriwal-led party — now considered a major political force — has again left its rivals behind by being the first to announce all seven candidates for the April 10 Lok Sabha elections.
The party is already in the campaign mode and identifying problems — they are aplenty — to prepare its poll manifesto.
Chandni Chowk candidate Ashutosh says, "In my constituency, the condition of schools is very bad. Delhi is full of super-speciality hospitals, but not here." The former journalist says because of congestion, it takes him one hour to drive from Ashok Vihar to Model Town. "It shouldn't take more than 10 minutes," he says.
Aashish Khetan, whose name for the New Delhi seat was announced only on Monday, will start campaigning now but he already has a long list of "ills plaguing the people."
"Extortion mafia is running the civic agencies. Without bribe, nothing moves. Parking is a huge problem. You cannot move around without a driver because there is no space for parking," the former investigative journalist says.
South Delhi faces severe water scarcity in areas such as Dwarka, Rajnagar, Bijwasan, Kapasheda, Sangam Vihar and Deoli. AAP nominee and activist Col (retired) Devender Sehrawat says: "We can tap monsoon water that goes into the Yamuna and store it in three big water bodies. This will help cater to Delhi's water needs for six to seven months."
In northeast Delhi, education is a top focus area. "I would consider including in the manifesto the suggestion of our Timarpur MLA Harish Khanna that an eastern campus of Delhi University must be set up in the constituency," said AAP candidate and JNU professor Anand Kumar.
In east Delhi, the party thinks "police atrocities" are a major problem. "Reigning the police has become important. Instead of helping the common people, the policemen trouble them, demand money," said Mahatma Gandhi's grandson and party nominee Raj Mohan Gandhi.
In North West Delhi, woes of farmers reign supreme. Candidate Mahender Singh says, "Also for many rural pockets, extension of Lal Dora is a major issue. Land acquisition is a problem as well."
People in west Delhi want a flyover, adequate water and even a bypass. Candidate Jarnail Singh says, "We will fulfill these demands. In the assembly polls we could not make much impact in rural seats because people were not confident about our ability to win. But people now have confidence in us after they saw how the AAP government worked in Delhi."
While door-to-door programme is a major campaigning tool, each candidate has his own ways, too. "I get up around 5 am in the morning. I meet morning walkers in parks. It's not possible to cover lakhs of household, but the idea is to establish a personal connect," says Ashutosh.
While Sehrawat relies on panchayats, Kumar will have padyatra in all the 40 wards of his constituency. "We focus on reaching out to our voters at weekly markets in different areas," says Jarnail Singh.
Mahender Singh sends a commercial vehicle fitted with a mike/speaker to different localities. "We are also using Interactive voice response system at many places," he says.
"I would like to see how much authority and funds I get on my election. I would like to modernise schools and make hospitals better. Chandani Chowk is a historical place. We need to redefine the concept of heritage protection. Poor sanitation is another ill plaguing the constituency," Ashutosh added.
"Since neither the party nor I have much money, I will not run a high-decibel campaign. But we need to reach out to people and that's a huge challenge. I will do door-to-door campaigning. Volunteers are our biggest support. We will also exploit social media tools. I have nothing to lose," Khetan says.
Close