At the workplace, a woman is alone after filing a sexual harassment complaint
Updated on Dec 21, 2016 03:31 PM IST
Sexual harassment at the workplace in common yet grossly underreported as women are either unable to understand that they are being harassed or do not find a support system to chase justice.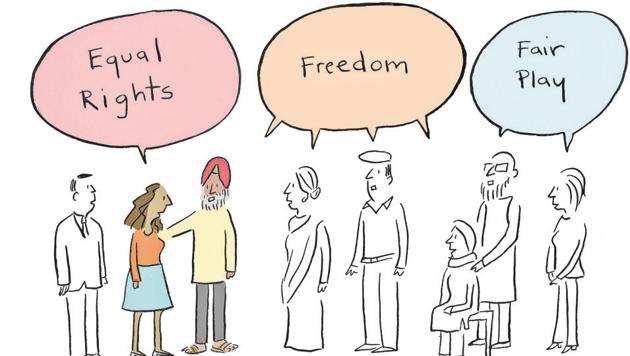 Hindustan Times, New Delhi |
Soumya Pillai and Sweta Goswami
It started with invitations for dinner and coffee that seemed harmless. She refused and ignored it.
He called her to his office and "deliberately" had a porn website tab open on his computer. She panicked, but kept silent.
Physical advances followed — a touch on the hand or an elbow brush to her body. That's when she decided to approach the harassment committee in her office. Like this accountant, many victims sometimes fail to realise that they are being harassed in the garb of 'friendly gestures' and a majority of those who do, do not report it.
The Sexual Harassment at Workplace (prevention, prohibition and redressal) Act came into force on April 23 , 2013. But not much has been done for its implementation.
"I knew, if I took this up, I would be isolated. But it reached a point where I had to do it," she said, voicing the concern of thousands like her who think twice before approaching the authorities.
And when she raised the issue with the human resource department, the battle was exactly how she had anticipated — lonely, long and humiliating.
She had to quit the job within six months because her identity was not kept a secret in contravention of the anti-harassment law and she was soon the topic of office gossip. It also hampered her chances of getting a job elsewhere. "No one wants to hire a trouble-maker, is what one organisation told me," she said.
Union women and child development minister Maneka Gandhi had told HT recently that nearly 70% private sector companies are yet to set up internal complaints committee.
Data shared by companies on sexual harassment cases in their annual reports show a 26% rise among 50 Nifty companies in one year.
Two-thirds of these companies disclosed 525 complaints in the last fiscal year. Wipro topped the list with 111 cases, followed by ICICI Bank with 87 and Infosys with 62. Information technology and banking companies, which employ more women, constitute over 80% of the total.
Sexual harassment, however, is not easy to define. "You know it when you see it," said lawyer Karuna Nundy, adding that a woman's feeling of discomfort is the deciding factor.
"You look good' may not be a sexual comment, 'You look hot' is," Shubha Srivastava, who has been handling cases of workplace harassment, said.
"Women team members being called honey or sweetheart or being asked intrusive, intimate questions about their personal life…They are not about attraction and pursuit. They are about power at work," Srivastava added.
But the problem is it is never simple. For someone combating a lecherous boss, it is difficult to read the legalese.
The country's first formal mandate against sexual harassment at workplace came in 1997, with the Supreme Court laying down the Vishakha guidelines in a gang rape case of Bhanwari Devi, a social worker in Rajasthan.
The case drew the Supreme Court's attention towards "the absence of domestic law occupying the field" and the need "to formulate measures to check the evil of sexual harassment of working women ."
While the 2013 Act, that followed the guidelines, defines sexual harassment in similar terms, lawyers working on issues of women's rights feel it is not what they had hoped for.
"This Act has diluted the spirit of Vishakha. It has been drafted using archaic language, which the common people will never be able to understand. Unlike Vishakha, which prioritised prevention, the 2013 Act prioritises complaints and the complaint mechanism…Not only is that unworkable, it is constitutionally unviable to create a parallel court in the workplace," said Manisha Singh, a lawyer.
"It is the 'sexual' part of harassment that creates the most discomfort, an unnecessary socially conditioned hurdle when we're actually talking about women's constitutional equality at the workplace." Those working in the field of women's rights feel it is the responsibility of the organisation to ensure that. But the Act falls short of globally accepted norms. In the US, for instance, its Supreme Court had held that in sexual harassment cases, an employer is liable for a supervisor's or manager's harassment, if it results in employment action.
In the US or Europe, workplace harassment covers both men and women.
The Indian law, however, has been drawn up only to protect women. And therefore gender-based discrimination is also not discussed in this act. India's long-awaited legislation against sexual harassment of women at workplace poses more questions than it answers.
The United Nations has recognised sexual harassment as a form of discrimination and violence against women. Under the Vishakha judgment, too, the need for a law against sexual harassment of women at the workplace was felt to ensure proper interpretation of the guarantee of gender equality and right to work with human dignity.
The WCD ministry has decided to set up an inter-ministerial committee headed by a senior official to review the progress of disposal of complaints of sexual harassment and prepare a training module with help from Institute of Secretariat Training and Management.
All ministries and departments have been asked to furnish a monthly report on the number of complaints received, disposed of, pending and action taken.
The move, though much needed one, will cater only to women employees of the government sector, leaving behind the majority of those who are engaged in the private sector.And importantly, there is no mechanism to monitor whether companies are implementing the norms set under the Act.
Let's Talk About Rape is illustrated by Liza Donnelly,a celebrated New York-based cartoonist and writer best known for her work in the New Yorker magazine.
To follow the entire series, visit http://read.ht/BLm0
Personalise your news feed. Follow trending topics