For Delhi's rape victims, cops can be first to respond but last to understand
In a city where a rape is reported every 4 hours, experts say that sensitisation towards such cases is still sorely needed. Furthermore, a lot of lower-rung policemen see training and sensitisation courses as something forced upon them.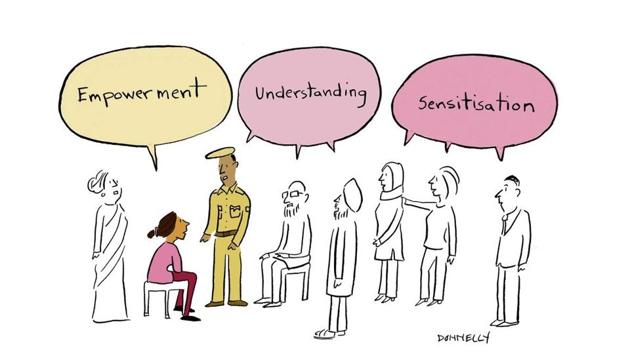 Updated on Dec 17, 2016 07:04 AM IST
At a gender sensitisation workshop for Delhi Police a few months ago, a constable left many in disbelief when he said that a "woman invites rape when she eats junk food and wears skimpy clothes".
Trainer Pratistha Arora was surprised, too, but not shocked.
As project director with the Centre for Social Research, Arora regularly holds gender sensitisation classes for Delhi police personnel. The constable's reaction was just one of several instances when she had to deal with a highly patriarchal mindset among a section of the police. A senior officer, visibly embarrassed, interrupted and tried to explain to the constable that there is no justification for rape.
In a city where a rape is reported every 4 hours, experts such as Arora say lower-rung policemen see training and sensitisation courses as something forced upon them. In 2015, Delhi police registered 2,199 rape cases. "Not all, but most of them come only because they have been told by their superiors to attend the session. Most of the junior officers come from the neighbouring states of Delhi, where the society is predominantly patriarchal. The way the police look at rape cases will change only if the mindset changes," she adds.
A long ordeal
Rishikant, who runs an NGO Shakti Vahini, says going to the police station is only the beginning of a harrowing ordeal for survivors. "Often, rape survivors end up spending hours at police stations because of the paper work. Police call counsellors as it is mandatory. If it is not done, doctors refuse to conduct the medical examination," says Rishikant, who goes by his first name.
Over the years, his NGO has rescued many trafficked women, most of them rape survivors, from across the country.
"A woman has just been through the worst trauma and now she has to remember it again in front of a cop. Imagine what she goes through when everyone walks into the room and is staring at her. It is the same at the government hospital, where a woman has to wait in front of everyone," he adds.
Read: 'The girl who was raped': How the system breaks survivors
Toffee and sweets
In 2015, nearly 50% of Delhi's rape victims were minors, shows official data. And out of the 928 cases involving underage victims, 621 were under the age of 16. Experts say not all policemen are trained to deal with minor victims.
"Police still offer toffee or sweets to talk to a minor rape victim at police stations to get them to speak. Is that the way to deal with such cases? It is time we need experts to deal with rape cases specifically," says Rajat Mitra, a Delhi-based clinical psychologist who has worked with city police for over a decade. Mitra says he has submitted more than 1,000 reports to courts in trial of rape cases.
"Investigation of rape cases requires experience and expertise. As cops are overworked, they do not have the time to probe such cases thoroughly because of which the conviction rate is still low."
In most European countries and in Australia, Mitra points out, there are separate units to investigate rape cases.
"Apart from the two-finger test, how many officers ask doctors to note every evidence about the cuts and bruises on her body? These are minor but important evidence in court."
In the past five years, Delhi Police have managed conviction in less than 50% of the rape cases. The most number of convictions, 49.25%, were in 2012.
Conviction of cases registered in 2015 was a mere 29.37% but police contests that most of these cases are still awaiting hearing or pending trial.
Read: Why Delhi's public transport is still a war zone for women
Themselves unequal
Arora says one of the surprising facts that emerged during her discussions with women constables was that they felt the patriarchal bias themselves.
"Women constables said they themselves felt they were not treated as equals. Women regularly tell us their male colleagues often tease them about not having any work pressure. Male constables believe women come to have tea at police stations and go home on time," she says.
In Delhi Police, the men-women ratio is about 23:2. There are only about 7,000 women cops in comparison to 74,000-odd male cops. Officials say women cops are stretched thin and handle too many rape cases.
The police are trying to get more women into the force, with growing awareness that women find it more comfortable to deal or narrate their ordeal to women officers. "There is no proof that women will be able to investigate crimes against women better but we should start somewhere. So let us start by getting more women officers," a senior police officer says.
Time for a change
Often accused of being rude and insensitive, most psychologists believe sessions on gender sensitisation are of not much help. "You can teach gender sensitisation to a teenager in school but not to a 30-40 year old constable or head constable, who has lived all his life believing in certain principles," a psychologist who regularly works with the police tells HT.
Former Delhi police commissioner Ajai Raj Sharma believes the police department has to change with time.
"There was a time when it was assumed that cops had to be strict with the public. We have to change. Today's requirement is totally different. Constables and junior officers are the first responders when anyone approaches a police station. The selection criteria must change. Experts will have to sit and decide how to get the best of men and upgrade the standard of those who come into the force in the junior ranks."
Read: Rape threat hangs over women even at homes
Most officers HT spoke to said there was little change in the scene since the December 16, 2012, gang rape and murder that had shocked the nation and forced the country to strengthen its rape laws. The number of women officers has increased, patrolling has gone up and women help desks have come up at every police station. But the number of rape cases has increased over the years.
"Big cases shake up only the top brass. Cases such as the Swiss diplomat's rape or the December 16 gang rape created awareness in the society. Everyone wanted the police chief and the then senior ministers to resign," says Mitra. "But the awareness and the change do not percolate to the junior officers."
This is part of the HT series, #LetsTalkAboutRape. Join the conversation and tell @htTweets what you think using the hashtag. The series features illustrations by Liza Donnelly, a celebrated New York-based cartoonist and writer best known for her work in The New Yorker Magazine.
Close Story
Personalise your news feed. Follow trending topics