Can paint, bolts and batteries be used to make bombs, ask JeM suspect's sister
Published on May 05, 2016 05:01 PM IST
Sajid was arrested from Northeast Delhi's Chand Bagh on Wednesday along with two others on charges of being an alleged JeM operative and making improvised explosive devices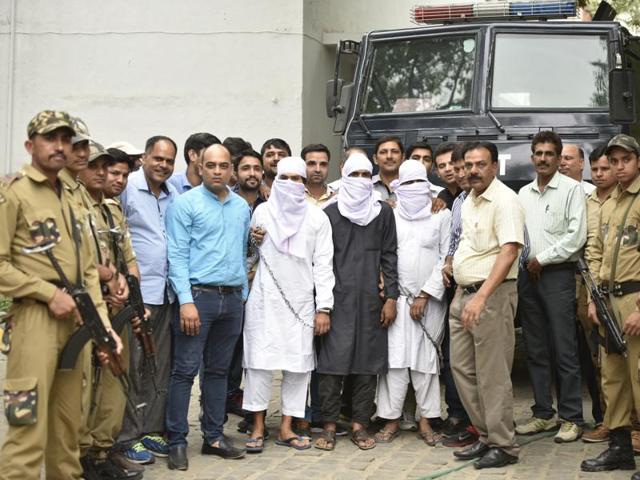 The sister of Sajid, the alleged Jaish-e-Mohammad operative who was apprehended on Tuesday night, has junked all allegations against her brother.
"Can a 250 gram bottle of paint, batteries, iron bolts and machine oil make a bomb? If he was making bombs in the basement, why would he allow kids of the house to play there while he worked? Would he take the risk to prepare bombs inside the house where he grew up, knowing it may blow up and burn down the house?" Mehsabi asked.
Sajid was arrested from Northeast Delhi's Chand Bagh on Wednesday along with two others on charges of being an alleged JeM operative and making improvised explosive devices.
Police claimed Sajid along with his associates made and assembled IEDs in his basement of his house.
Mehsabi said Sajid, who ran a tailoring business from his basement for the past four years, was being framed by the police and that the "raw material to make IEDs" seized by the special cell team from the house was used in the upkeep of the sewing machines.
Read: They learnt bomb-making online, say police
"They took whatever they could find. They took a steel pipe lying in the basement after we recently got the renovation done. They took shaving razors, batteries, lubrication oil, paint and carbon powder used in the sewing machines. They even took an I-pod battery, a screwdriver and a small clock hanging on the wall. These are items you would find in any household or a small time factory. Contrary to the police's claim, no bomb was found in our basement," she said.
At 10.30 on Tuesday night, the special cell team knocked at Sajid's door. Sajid was in the mosque to offer namaz. The moment he returned, he was apprehended, the sister said.
"They came in civil clothes, broke the door and barged in. When we asked who they were, they pushed me. They started searching the house and started throwing things around. They told us they will shoot us in the head if we tried to interfere," Sajid's mother Aamna said. "Everyone had access to that basement and he never locked it. If he was making bombs, he would have done it secretly," she added.
Families of the nine people apprehended on Tuesday night had similar stories to share. "My nephew had just returned from the mosque when five men, including two in uniform came, and asked for him," Shaheen, Shequawat's aunt, said.
"They did not even let him wear his shirt and dragged him out. I ran behind them and fell on their feet requesting to at least tell me where they are taking him, but they threatened to shoot us," she said.
Also read: Delhi cops arrest 3 JeM terrorists after six-month covert operation