Kejriwal accuses CBI of raiding his office, calls PM Modi 'coward'
Hindustan Times |
, New Delhi
Abhishek Saran and Vishal Kant
Dec 15, 2015 04:40 PM IST
Delhi chief minister Arvind Kejriwal called Prime Minister Narendra Modi a psychopath and coward after the CBI raided his office on Tuesday, triggering a torrent of criticism from BJP leaders in what may be the next flashpoint between the Centre and city government.
Delhi chief minister Arvind Kejriwal called Prime Minister Narendra Modi a psychopath and coward after the CBI raided his office on Tuesday, triggering a torrent of criticism from BJP leaders in what may be the next flashpoint between the Centre and city government.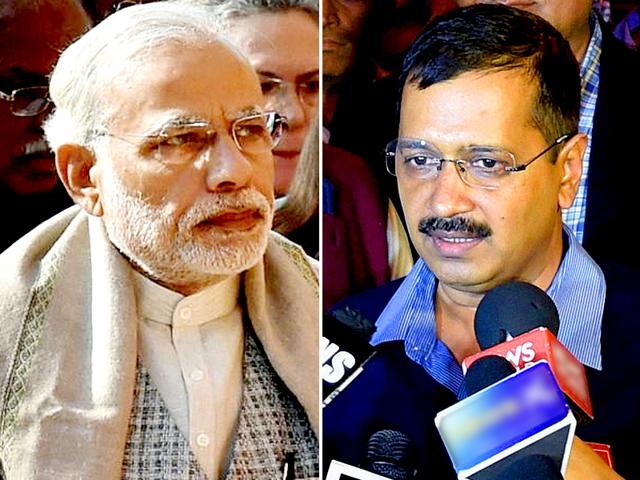 Kejriwal's tirade against the central government on Twitter was backed by several opposition parties but an angry BJP demanded an unconditional apology from the chief minister for his language and accused him of protecting corrupt officials.
"CBI raids my office. When Modi couldn't handle me politically, he resorted to this cowardice. Modi is a coward and a psycopath," the CM tweeted as several party leaders called the incident shameful.
Hours later, agency officials refuted Kejriwal's charges, saying investigators raided the office of senior bureaucrat and CM's secretary Rajender Kumar for allegedly favouring private firms in state tenders. Raids were also conducted at 14 other places in Delhi and Uttar Pradesh, sources added.
"Reports of raids at Delhi CM office are completely baseless. Do not spread baseless rumours to impede the investigation," said a CBI spokesperson.
The dramatic raids came days after the Congress paralysed Parliament over the government's alleged vendetta in the National Herald funds misuse case, where Sonia and Rahul Gandhi are accused of illegally acquired property worth crores.
The BJP, too, backed the Central Bureau of Investigation, saying the agency didn't function under the Centre.
"Kejriwal's language was unwarranted, shameful and condemnable. We demand an unqualified apology for the baseless allegations," said Union telecommunications minister Ravi Shankar Prasad.
Union minister Venkaiah Naidu said it had become fashion for Kejriwal to quarrel with the central government and take the PM's name for everything.
"Kejriwal is protecting a corrupt person. A party born out of the anti-corruption movement has been caught supporting corruption. If the CBI acts on complaints, why attack the PM? Should there be no action against corruption?" environment minister Prakash Javadekar told reporters.
Union finance minister Arun Jaitley told Parliament the raid had nothing to do with Kejriwal and was related to a matter "prior to his becoming chief minister" but Kejriwal called this a lie.
"FM lied in Parliament. My own office files are being looked into to get some evidence against me. Rajender is an excuse," the AAP chief tweeted minutes after Jaitley spoke.
"I am the only CM who dismissed, on my own, a minister n a senior officer on charges of corruption and handed their cases to CBI," the CM wrote on the microblogging site, a reference to the dramatic dismissal of environment and food and supplies minister Asim Ahmed Khan in September for allegedly demanding R6 lakh from a builder to allow illegal construction.
Senior AAP leaders attacked the government over the raids, calling the incident shameful and a new low in politics.
"Modi is trying to stop honest politics by using CBI raids as a scare. But he won't succeed as the public is with the truth," senior leader and deputy CM Manish Sisodia tweeted.
The party also received support from opposition parties, most noticeably the Trinamool Congress that accused the BJP of trying to demolish the country's federal structure. "Sealing of a chief minister's office is unprecedented. I am shocked," West Bengal chief minister Mamata Banerjee tweeted.
Sources in the CBI said that investigators found foreign currency worth over R3 lakh, cash worth Rs 2.4 lakh and documents pertaining to three immovable assets at Kumar's south Delhi residence. The move came on a complaint by former Delhi Dialogue Commission secretary Ashish Joshi.
Exactly a week ago, the CBI had detained Sanjay Pratap Singh – the principal secretary in the department for welfare of scheduled castes, scheduled tribes and minorities – for allegedly accepting a bribe of Rs 2.2 lakh from a manpower supplier.
The AAP rode to power last February on an anti-corruption wave but has since been embroiled in a series of spats and corruption scandals.
Khan was the second AAP minister to be sacked after Jitender Tomar (law), who resigned under party pressure in June after he was arrested for allegedly faking his educational qualifications.
In September, party MLA Somnath Bharti was arrested in a domestic violence case. Bharti faces police action in another case too, that involving the midnight raid on African women in south Delhi.
Twenty legislators of AAP — which rode to power in Delhi on its promise of a corruption-free rule — have cases registered against them. Of these, four have been arrested.
The AAP administration has also repeatedly accused the Centre of trying to run the city by proxy using lieutenant governor Najeeb Jung. The two sides have clashed on the appointment and transfer of senior bureaucrats and the Delhi
Police, which reports to the Union home ministry and not the city government.
The latest war of words comes after a bitter verbal spat in connection with the controversial demolition of a slum settlement in outer Delhi's Shakur Basti that left hundreds of poor people homeless in the biting cold.