Delhi Metro services hit on Blue Line due to trade fair rush
Updated on Nov 26, 2015 01:01 AM IST
Passengers travelling on this over 50-km-long section, that connects Dwarka to Noida, were left stranded for long durations, in cases stretching to an hour.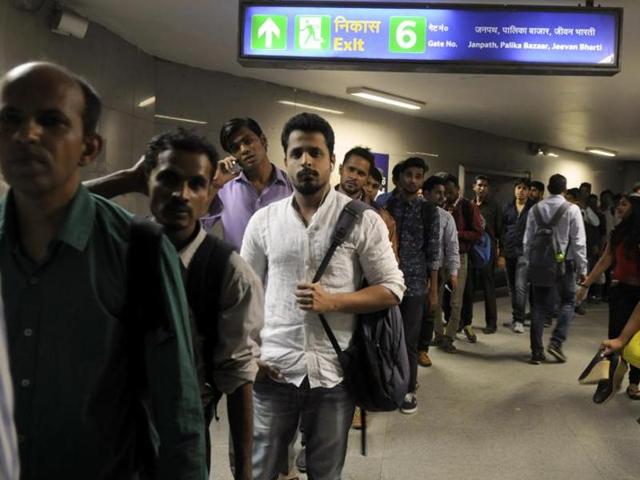 Around two lakh people visited the ongoing India International Trade Fair at Pragati Maidan on Wednesday, a public holiday. Metro service on Blue Line, the busiest corridor, was severely affected due to the excessive passenger rush at the Pragati Maidan station.
As many as 1,13,413 tickets were sold from all Metro station on Wednesday with Pragati Maidan Metro station alone selling 36,945 tickets.
"The average ridership of Pragati Maidan station on normal days hovers around 15,000. Since November 19, when trade fair opened for public, the average ridership of the station has shot up to approximately 80,000 passengers," said an official.
Passengers travelling on the over 50-km-long Blue Line, which connects Dwarka to Noida, were left stranded for long durations owing to the rush on Wednesday. In some cases the delays stretched to as long as an hour.
DMRC officials said that on the Blue Line, 17 extra trains had been pressed into service on Wednesday that made around 100 extra trips in comparison to an off day (Sunday) time table.
Officials claimed that there was no failure of the Metro system throughout the day but train movement was regulated at Pragati Maidan due to the large inflow of trade fair visitors.
"Trains from Yamuna Bank and Mandi House were stopped till one batch of people cleared the platform and the concourse of Pragati Maidan station. The trains were signaled in to accommodate the next rush of passengers. This caused a delay in the services on the Noida/Vaishali section," an official said.
A trade fair official confirmed that Wednesday had registered a whopping footfall of around two lakh people.
Personalise your news feed. Follow trending topics