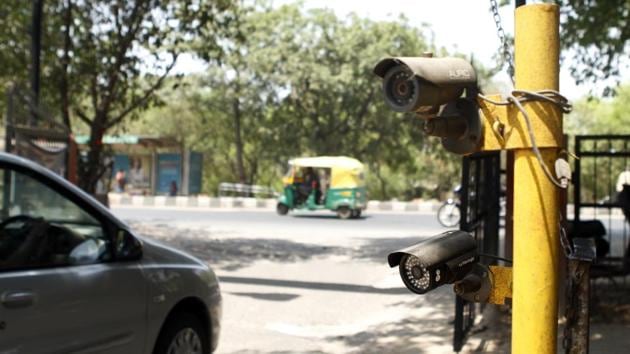 Delhi Police plans to buy 10,000 CCTV cameras using
₹

1000 cr Nirbhaya fund to safeguard city

The surveillance cameras, police said, will help upgrade security in the city especially for women. In the last eight years, police have bought only 4,074 cameras. Last year, they could manage to install only 85 cameras.

Hindustan Times | By HT Correspondent

UPDATED ON FEB 19, 2017 11:30 PM IST
The Delhi Police have written to the ministry of home affairs for a proposal to buy 10,000 CCTV cameras for electronic surveillance across the city. The cameras, police said could be bought from the ₹1,000 crore Nibhaya fund, sanctioned by the finance ministry for the safety of women in each state.
In the last eight years, police have bought only 4,074 cameras. Last year, they could manage to install only 85 cameras. Also, most of the cameras installed in markets and roads are lying defunct. In a meeting at the police headquarters last month, senior police officers discussed that more than 20% of these cameras across the city were not functioning because of the digging of roads.
Though over the last two years, around 1.82 lakh CCTV cameras have been installed in housing societies and markets by residents and shopkeepers in a tie-up with the local police, there are still many pockets that are yet to come under CCTV surveillance.
"We have cameras in main markets, courts, railway stations and other important landmarks. Besides that, 1.82 lakh cameras in housing colonies which are connected with server of police stations are owned by private individuals. There could be around 5-8 lakh cameras on Delhi streets but that is not enough," said a senior police officer.
Police sources said if the proposal of additional 10,000 cameras is sanctioned, they will be installed at the dark stretches identified by the police, where most crimes are reported. A senior officer said that in the city's smaller markets, all beat officers have been told to get in touch with shopkeepers and advise them to install the cameras. "These days most of the crimes are caught on cameras. It wasn't like this around five years ago. Because everyone is aware of the importance of cameras, in the next 5 years, 90% of the street crimes will be caught on tape," added the officer.
Close