Delhi: AIIMS docs to learn taekwondo to defend themselves from kin of patients
May 03, 2017 11:28 AM IST
AIIMS doctors in Delhi will learn self-defence to handle situations in which kin of patients attack them. A Lancet journal reports says more than 40% doctors in tertiary care faced violence in 2016.
Rising violence against doctors has prompted nearly 1,500 resident doctors from All India Institute of Medical Sciences (AIIMS) to learn taekwondo so that they are able to defend themselves on duty.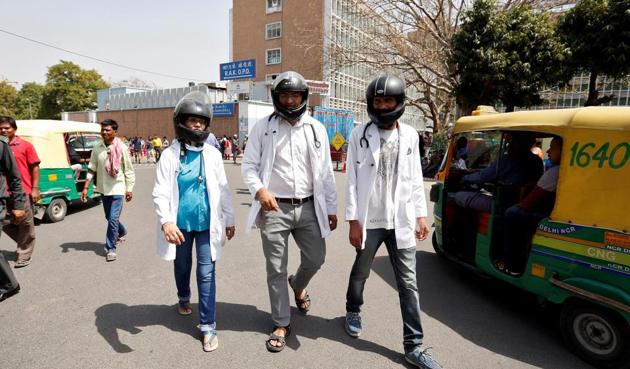 In March, after three incidents of violence were reported in three days, more than 3,000 resident doctors, working in the emergency, out-patient departments and wards, went on strike for five days in Maharashtra.
"We had supported our counterparts in Mumbai by wearing helmets to work in March. This is because we are genuinely concerned about our safety. Keeping the same in mind, we had requested the AIIMS administration to organise self-defence classes for us. They granted us permission to conduct taekwondo classes in AIIMS gymkhana club," said Dr Vijay Gurjar, president of the resident doctors' association.
The doctors, in batches of 100, will train at the gymkhana club between 7-8 pm every day from May 15. The basic course will be for 6 months and the black belt course for 30 months.
According to a report in the Lancet journal, while 75% doctors in tertiary care hospitals face physical or verbal violence at work at least once in lifetime, over 40% of them faced it in 2016.
The problem is multifactoral. Overcrowding in public health facilities forcing doctors to spend less time with patients, corruption and over-charging for services (in which the referring doctor gets a cut) leading to the breakdown in the doctor-patient trust are some of the reasons recognised by the study.
"Doctors are forced to spend less time listening to the patients or their caregivers. The concept of shared decision making is almost absent. The average conversation between a doctor and a patient might last just a few seconds," said Dr Vijay Nath Mishra, neurology professor, Sir Sunderlal Hospital, Varanasi.
VIOLENCE REGISTRY
The IMA will launch a registry where doctors can report any incidence of violence along with evidence such as videos, photos, CCTV footage, and newspaper clippings. The doctors' body will then conduct an investigation and do a root cause analysis.
"This will help us in understanding why violence is happening, predict when the violence might happen and look at measures to prevent such incidences," said Dr Dr KK Agarwal, president of the Indian Medical Association (IMA).
WHAT PATIENTS WANT
"Confrontations happen because of the anger caused by non-fulfilment of desire. Hence, we need to understand what the patients really want," said Dr Aggarwal.
A survey done by the IMA found that 90% of the patients wanted doctors acknowledge and address them, 92% wanted doctors to listen, 89% wanted the doctors to explain what the illness is and keep them informed throughout. Around 75% of the people also wanted their doctors to review – ask them if they understood and, if not, help them understand. 40% of the respondents also wanted the doctors to thank them. "The patients said that they always thank the doctors, but they wanted that the doctor thank them in return as they gave them an opportunity to treat their relative. We called the study ALERT – Acknowledge, Listen, Explain, Review and Thank," said Dr Aggarwal.