JNU puts prof on notice over address to students
Updated on Dec 30, 2016 09:53 PM IST
A letter from the university referred to Menon's address to a group of students on Wednesday. It said a poster calling for a protest public meeting at the spot on Friday mentioned her name.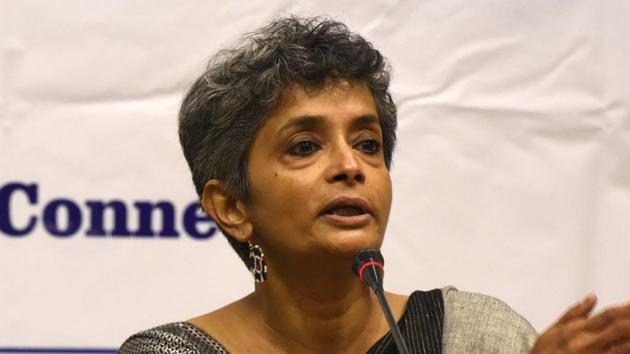 Jawaharlal Nehru University sent a letter to professor Nivedita Menon over what it said was "clear violation" of university rules following her address to some students at the administrative building and warned her of "disciplinary action".
The letter referred to Menon's address to a group of students on Wednesday. It said a poster calling for a protest public meeting at the spot on Friday mentioned her name.
Menon is a professor at JNU's School of International Studies.
A group of 10-12 professors, including Menon, economist Jayati Ghosh, and Vikash Rawal addressed the students on Friday.
Teachers and students had been protesting after the academic council (AC) passed a UGC notice making entrance exam for research courses as only "qualifying". Eight students were suspended for disrupting the AC meeting.
Read: JNU vice-chancellor to have a bigger say in hiring faculty
The university had been issuing show-cause notices to students and warning them against protesting at the spot. But this is the first time it sent a letter to one of its professors.
The letter issued to Menon, a professor of political theory and popular for her writings on feminist issues, asked her to not violate the rules again.
"We request you to not violate the university rules again. Violation of university rules and regulations will attract disciplinary action," the letter sent on Friday said.
Menon told HT, "Neither I nor any other teacher of JNU will accept this administrative attempt to curb our constitutional rights. I do not accept, as a teacher of JNU, that addressing our students anywhere on campus is against any rules.
"If this administration is so concerned about rules, it should consider with shame its own conducting of the recent academic council".
An official said, "Rules are same for teachers and students. If teachers violate the rules then students will do same. If teachers addressed students at the spot today then notices will go to them also".
JNU had recently "prohibited" all protests near the administrative building, popularly known as "Freedom Square", ever since students made it central spot for their protests following the February 9 event during which anti-national slogans were allegedly raised.
Scores of professors and activists from the university and outside had delivered speeches at the spot under an initiative of JNU professors titled "What the Nation Really Needs to Know". The lectures have been compiled and are coming out in the form of a book with the same title.
Former JNU students' union president Kanhaiya Kumar had delivered his popular "Azaadi" speech at the spot after he was released on bail.
Read: Eight JNU students suspended for 'disrupting' council meeting
Recently, the university prohibited all protests within 20 metres of the administrative and academic complex. It said peaceful and democratic forms of protest were allowed 20 metres from the complexes.
The university said the rule wasn't new and is part of its "Norms of functioning for the components of the university community" [academic rules and regulations etc, JNU M7 (6)].
Before that, the university had installed iron grilles to block access to two spots at te administration building. The university had claimed it was done to create extra office space as there was space crunch in the building.
"This shows the V-C wants to run the university on the basis of threat. He is issuing threats to everyone. He doesn't know how to run a university," said Mohit Pandey, president JNU students' union (JNUSU).