MCD elections: Delhi municipal hospitals lack doctors, medicines
Published on Mar 24, 2017 11:45 PM IST
The three municipal corporations run six hospitals in Delhi, besides several polyclinics and maternity centres. But drug shortage, poor utilisation of infrastructure, non-availability of staff and lack of diagnostic facilities ensures that the patients do not get proper treatment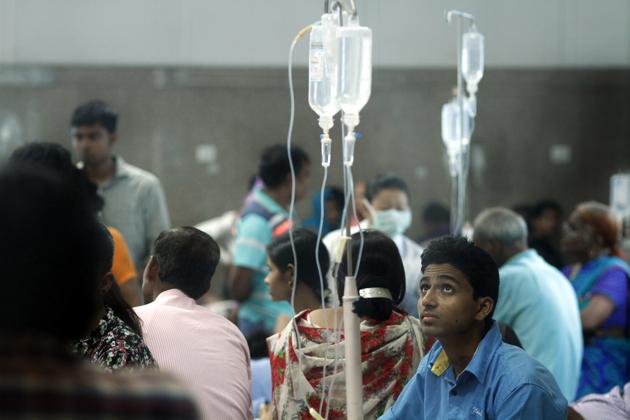 The multispecialty Hindu Rao Hospital in north Delhi does not have a neurosurgeon. A doctor here says while they get 5,000 patients in the OPD daily, they are not equipped to handle trauma cases. "All we can do is stabilise patients before referring them to a better-equipped hospital. We often don't have all the medicines and equipment needed to treat critical patients," the doctor says.
Hindu Rao Hospital is the biggest among the six hospitals run by the Municipal Corporations of Delhi yet it struggles with drug shortages, infrastructure gaps, staff shortfall and outdated equipment.
"Many life-saving treatments that should be free — such as medicines to control abnormal heart rate and intravenous nutrition for patients too ill to eat — are not available and have to be bought by patients from private chemists," the doctor said.
The other five hospitals too face drug shortage, poor utilisation of infrastructure and non-availability of staff. The Corporations, that are tasked with providing secondary care in the city, have failed over the year to put in place and effective system to redress problems in this sector.
Here is a look at the problems that have hollowed the existing secondary care set up.
Drug shortage
Jagdish Chauhan, 76, has to go to Hindu Rao Hospital every 15 days for his medication for stroke, which left the left side of his body weak a year ago.
"I have been prescribed a medicine that costs Rs 7,000 a month and vitamin tablets that cost Rs 420 a month. Both are not available at the hospital. How can I afford them?" asks Chauhan, who had to quit working as a tailor as the stroke left him almost blind in his right eye.
The only time he got all the medicines was in January. "Some VIP was visiting that day, so everyone was very helpful," said Chauhan.
However, Dr DK Seth, director of hospital administration of North Corporation, denied that there is any drug shortage: "We do not have centralised procurement because it leads to unnecessary delays. We have a fixed price list and suppliers and each hospital just has to place an order as and when required."
Delhi government hospitals procure all medicines, consumables and equipment through Delhi Healthcare Corporation.
Sharing infrastructure
In a move to manage its finances and infrastructure better, the North Corporation, which manages five of the six corporation hospital, is in the process of merging several of its hospitals.
The operation theatres (OTs) in the sprawling 79-acre Rajan Babu TB Hospital campus in Mukherjee Nagar, which was underused, is being used by eye, ENT, dermatology and dental care departments of the neighbouring Hindu Rao hospital.
"The hospital was primarily meant for TB patients, but with most cases treated at home with medicines, we rarely need to operate on patients. These OTs will now be used for specialities that do not have dedicated OTs at Hindu Rao," said Dr Seth.
Once the ophthalmology department started using Rajan Babu OTs for eye surgeries, the number of surgeries went up to 20 surgeries a day four days a week from 10–15 surgeries twice a week at Hindu Rao Hospital. "The result was 1,300 eye surgeries in six months," said Dr Seth.
The almost deserted Maharishi Valamiki Infectious Diseases Hospital next door will also be merged with Rajan Babu to improved efficiency of resources.
Maternity benefits
The North Corporation will also use the underutilised wards at Rajan Babu to create a 100-bed maternity block for patients from Hindu Rao hospital. Currently, only 230 of the 1,155 beds at Rajan Babu are occupied at a given point of time.
Merging Kasturba hospital and Mrs Giridhali Lal maternity home and creating an 11-story multi-speciality block are also in the pipeline. "This will take the load off Delhi government's Lok Nayak hospital, which is always overcrowded," said Dr Seth.
These ongoing projects, however, have inconvenienced patients. At Kasturba hospital, for example, patients need to jump over a huge trench at the main entrance to reach the emergency department.
Diagnostics
There's almost no waiting for basic diagnostic tests, such as ultrasounds and x-rays at MCD hospitals, unlike at most Delhi and central government hospitals where it takes from days to weeks.
None of the six hospitals, however, have an MRI, which is a basic diagnostic tool that can be used across specialties, including cardiology and neurology. "It is a necessary test for tumours, nerve injuries or damage caused by stroke, so we have to refer patients to other hospitals," said a doctor from Hindu Rao Hospital, which has functioning cardiology and neurology departments.
The hospital also does not have a cath lab to perform angiography, a procedure to visualise arteries of the heart and its chambers. "There is a cardiac care unit in the hospital, where we stabilise the patient and then refer them to higher centres," the doctor said.
The patients also have to pay for tests like CT scan. "My wife has been having splitting headaches for almost a month now. The doctor gave her some painkillers, but when it did not get better, she asked us to get a CT scan. But I need R 1,200 for that," said Kalicharan Prajapati, a daily-wager who earnings a living by doing odd jobs.
These tests are provided free at Delhi government hospitals and private centres it has tied up with.
Human resources
Doctors at MCD-run hospitals had to go on strike twice last year to get their salaries. "A two-months backlog is routine. Even after the bailout by the Delhi government, we do not receive our salaries regularly," said a doctor from Kasturba hospital.
The almost all senior residents and consultants working at MCD hospitals have been hired on an ad-hoc basis. "We have a contract of 44 days, which has to be renewed constantly. For the past three to four years, there have been no advertisements for regular posts," said a doctor from Hindu Rao hospital.
An official, however, insisted that this ad-hoc hiring happens only for posts that are reserved for certain categories and candidates are unavailable.
At Hindu Rao Hospital, there is only one consultant for most specialities. "This means that the emergency department is manned by only senior residents and consultants are unavailable for emergency procedures," the doctor from Hindu Rao said.
Personalise your news feed. Follow trending topics