Regional plan needed to tackle air pollution, say experts
Ten of the top 20 polluted cities in the world lie in north India. The list includes Gwalior, Allahabad, Patna, Raipur, Delhi, Ludhiana and Kanpur.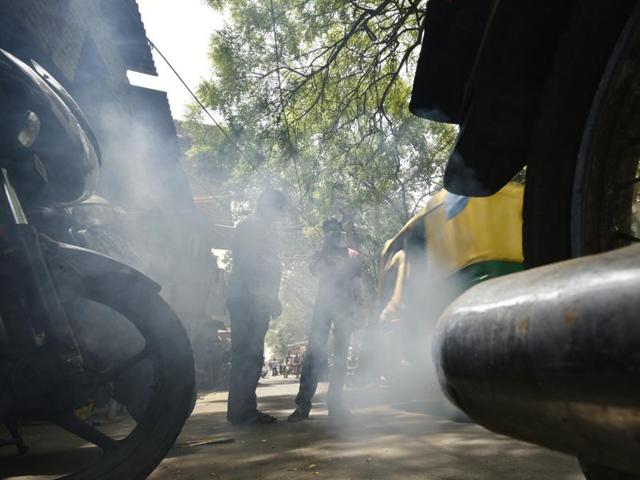 Updated on Jun 04, 2016 07:52 PM IST
Hindustan Times |
, New Delhi
Mallica Joshi
The World Health Organisation's (WHO) report on air pollution has made one trend very clear – cities that lie north of the Vindhyas need to watch out.
Ten of the top 20 polluted cities in the world lie in this region. The list includes Gwalior, Allahabad, Patna, Raipur, Delhi, Ludhiana and Kanpur.
The problem of air pollution, clearly, is more aggravated in this region and experts say it is high time a special regional plan is developed to deal with the issue.
"There is an urgent need of coordinated inter-agency efforts to address air pollution at national and regional levels. That a whole region is suffering from the problem has been reinforced by the findings of various research bodies, including IIT Kanpur, the WHO and the government's own Central Pollution Control Board," said Greenpeace India campaigner Sunil Dahiya.
According to him, the rise of fossil fuel consumption in India and unclean industry has contributed to an increase in air pollution levels. The significant increase in secondary particles such as SO2 and NOx in particular are contributing to the overall pollution, he said.
The co-author of the IIT Kanpur report on air pollution, Mukesh Sharma, said recently that biomass burning, secondary particles, vehicular pollution and road dust were the biggest air pollution issues.
Wind speed, direction and location make cities such as Delhi and Agra more prone to dust from arid parts of Rajasthan. Farm fires in Punjab and Haryana add to the problem. The same thing is applicable to industrial pollution from towns and cities with an unregulated industrial sector.
The most polluted town in the world, Zabol, is the most polluted not because of heavy industrial presence or large number of vehicles but because it sees up to 80 big dust storms in a year. Meteorological and local conditions, too, impact air pollution in a significant way.
Also read: Half of world's 20 most polluted cities in India, Delhi in 11th position
"We absolutely need a regional plan that targets these places. New reports and studies show that this belt needs urgent action. We need to look at cleaning shared air. The three things we need to look at is controlling motorization, especially that which runs on unclean fuel, providing LPG connections and assistance to poor families that still use wood and coal to cook, and controlling polluting industry in the entire region," said Sunita Narain, director general, Centre for Science and Environment.
In an urban setting, vehicular emissions are an important consideration, particularly with populations living in close proximity to roads. The problem of air pollution can only be addressed through multi-sectoral cooperation," said Poonam Khetrapal Singh, WHO Regional Director for South-East Asia.
She said increasing use of clean energy such as LPG, renewable power sources like solar and wind, and prioritising public transportation, walking and cycling amenities in cities are among a number of affordable strategies that can be adopted.
EXPERT SPEAK
"Pollution does not recognise political boundaries, with polluted air travelling across long distances. Air pollution is a national crisis, and demands a concerted national action plan in response," says Sunil Dahiya, campaigner, Greenpeace India.
"All sources of pollution need to be monitored and tackled. You don't have a choice anymore and it is a big challenge. You need to give incentives to farmers so that they don't burn agricultural waste and need to tackle poverty to make more people opt for LPG over biomass burning," said Sunita Narain, director general, CSE.
Suggestions
1. Regional plan for the entire area
2. Promoting clean industry, banning polluting units
3. Moving to cleaner fuel
4. Giving incentives to stop biomass burning and farm fires
Close Story