Ahead of Budget session, wiser heads at the Centre must defuse JNU issue
Updated on Feb 17, 2016 07:57 AM IST
Ahead of the important Budget session of the Parliament, the wiser heads at the Centre must defuse the JNU crisis.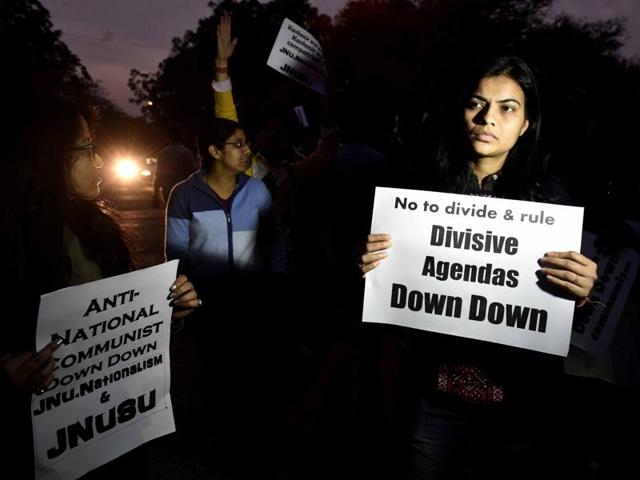 This is not a crisis that the NDA government would like to have on its hands for too long. The students at Jawaharlal Nehru University (JNU) are heading out on protest marches daily, backed by the teaching community and leading figures from the Opposition. The cycle of events began with an event to observe the anniversary of the hanging of the 2001 Parliament attack convict Afzal Guru and there some pro-Pakistan slogans were heard. Union ministers expressed outrage and swung into action with the police arresting Kanhaiya Kumar, the students' union president, on charges on sedition.
There has understandably been a blowback from students and the wider intelligentsia. The immediate charge of sedition before an investigation by the university authorities could be initiated has set the stage for the criticism that followed. The sedition law is, in any case, clear that it can be invoked only when speech constitutes incitement to violence, which prima facie here does not seem to be the case. As commentators have noted, the Supreme Court in the Balwant Singh v State of Punjab has overturned convictions for 'sedition' and acquitted those who had shouted slogans in favour of Khalistan. In any case, taking exception to controversial slogans and criminalising them in a university setting is to deny the scope for the interplay of ideas, however intense they may be.
The political handling by the parties concerned also leaves much to be desired. The Congress and other Opposition parties have waded into troubled waters to compound the NDA's discomfort. All sides must exercise restraint to avoid deterioration in the atmosphere. Hate speech is deployed with impunity on social media. CPI(M) leader Sitaram Yechury has reportedly received threat calls for extending support to the protesting students. JNU students and teachers and journalists were abused and attacked on the Patiala House premises on Monday as Mr Kumar was to be produced in court, while the police looked on. The Centre needs to give careful thought to its strategy. Union home minister Rajnath Singh's allegation that Lashkar-e-Taiba's Hafiz Saeed was supporting the JNU students — a statement evidently based on a tweet from an account impersonating the terrorist — does not help the Centre's narrative, unless it is substantiated. The unrest in the university is bound to get increasing attention at home and abroad. And at time when there is an important Budget Session of Parliament coming up and crucial state elections to follow, turmoil in a prominent university in the capital will only make politics more fractious. Wiser heads at the Centre need to prevail.