Aung San Suu Kyi should speak against the persecution of Rohingyas in Myanmar
If Suu Kyi speaks out against those who murder and terrorise the Rohingya, it will not only save many innocent lives and redeem her image in the eyes of the world, she will also be doing her nation a great service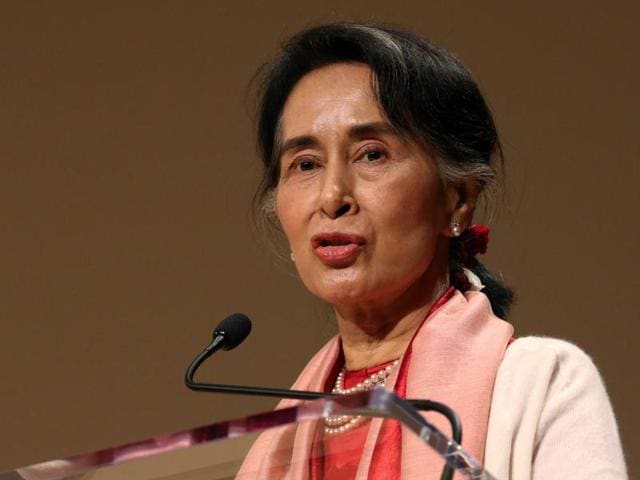 Updated on Oct 18, 2016 03:31 PM IST
The arrival of a Nobel Peace laureate in New Delhi should rouse our collective spirit; the very purpose of the prize is to amplify the recipient's ability to inspire. But this can be a burden on laureates. Once ennobled, they are held to their own highest standard, and subject to closer international scrutiny than ever before in their lives. Under such intense examination, some are found wanting: Henry Kissinger was discovered to be an amoral war-monger; Kofi Annan did little to halt the Hutu-Tutsi genocide when he was head of the UN's peacekeeping forces. Others fail to live up to the enhanced expectations: Barack Obama, awarded before he had done enough to deserve the prize, has not yet earned it; the European Union has been disgraced by the behaviour of many of its members toward Syrian refugees.
Read | Myanmar Muslims on trial for illegally importing 90 cows for Eid al-Adha
Aung San Suu Kyi, who arrived in Delhi yesterday, is thus in good company. Myanmar's de facto ruler — legally barred from office, she runs the country by the proxy of a loyalist president — has lost a great deal of international esteem because of her failure to act against the persecution of the Rohingya people, a Muslim minority, by some of her fellow Buddhists. She will not even use the term "Rohingya", for fear this might legitimise their grievances. Her behaviour has earned open rebuke from a fellow laureate, a Buddhist leader not known for a propensity for ad hominem criticism: The Dalai Lama.
Read | Myanmar sends troops into Muslim­-majority region
Suu Kyi's apologists argue that political calculations prevent her from speaking her mind on the subject of the Rohingya: defending them might earn the wrath of the Buddhist majority, and weaken her against the military leadership that kept her in house arrest for the better part of two decades, and still exercises great power. In this line of argument, Suu Kyi's silence on the persecution of a minority is essential for the preservation of Myanmar's democracy. Coming from an ordinary politician, this reasoning would be specious; from a Nobel Peace laureate, it is shameful. Suu Kyi, of all people, should know that political expediency cannot cover for moral cowardice.
Read | 12 killed in clashes between troops and armed men in Myanmar's Rakhine
It is not too late for the lady to turn. If she speaks out against those who murder and terrorise the Rohingya, it will not only save many innocent lives and redeem her image in the eyes of the world, she will also be doing her nation a great service. And if she should need inspiration — for even laureates sometimes do — she can find it in the story of a hero who dared to speak uncomfortable truths at great personal cost: A certain Aung San Suu Kyi.
Close Story