Bengal politics is inherently violent
May 15, 2019 11:57 PM IST
This time, it is proof that the BJP's efforts in the state have paid off
The bitterly contested Lok Sabha elections in West Bengal have been ravaged by violence the likes of which has not been seen anywhere else in the country. It is no surprise. Violence runs in the veins of Bengal's politics, and it sees an unseemly spike whenever a settled political regime is put under pressure by a resurgent opposition. What we are seeing now is the result of rivalry between the ruling Trinamool Congress and the aspiring Bharatiya Janata Party (BJP), which, keen to make inroads into the eastern state, has, over the past few years, bolstered its planning, network and presence on the ground.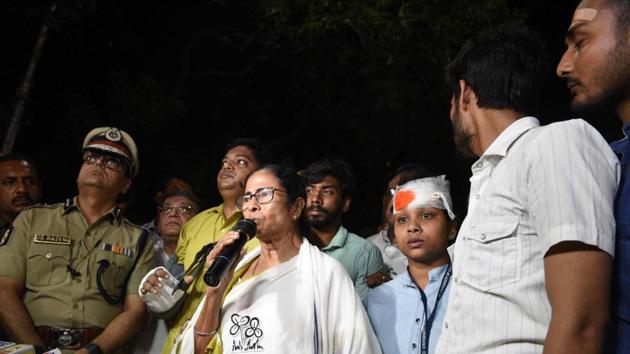 It was ever thus. When TMC chief Mamata Banerjee made her bid to topple the incumbent Left Front government, similar scenes of violence played out in the state. Ms Banerjee was then in the ascendant, the ruling Left was unyielding and unforgiving, and violence spawned more violence.
Brutality is ingrained in the nature of Bengal's politics. It has been a constant feature in the state since its origins in the mass struggles of the 1960s and 1970s, during which time the concept of gherao as a form of protest emerged. The Communists in Bengal were cadre based. Its cadre gave the CPI(M) its organisation, its reach, its clout, and, ultimately, its massive mandate and power. When Ms Banerjee came to power in the 2011 Assembly elections, ending 34 years of Left rule, her success was predicated on winning a large number of cadre over to her side. Now, as the BJP mounts a challenge to Ms Banerjee's rule, it has weaned away a number of those cadre. It is not shyin g away, as the Trinamool did not when it challenged the Left, from a fight.
The bloodshed in Bengal, therefore, shows that the BJP's efforts to build its base in the state, which sends 42 MPs to the Lok Sabha, has paid off. The TMC is fighting for its political space with the BJP. The ruling party seems to believe that it can ward off the challenge from the BJP through sheer violence, a tactic that seems to be failing as this has given the BJP ammunition. The BJP won only two seats in the state in the 2014 general elections. Today, as the Left has become irrelevant and the Congress been marginalised, the BJP has emerged as the undisputed second political force in the state. It is the TMC's principal challenger. And Ms Banerjee and her party know it. Whichever way this election goes, the violence ingrained in Bengal's politics is not likely to go away, especially in the run up to the Assembly polls of 2021.
.