Two key thrusts in R-Day parade
Jan 26, 2023 07:58 PM IST
Push for defence indigenisation and women leaders in forces is a signal for the future.
If two aspects of the first parade down Kartavya Path as part of the 74th Republic Day stood out, it was the focus on showcasing only India-made weapons systems and the strides by women in the armed forces. The military gear reflected the country's focus on boosting atmanirbharta or self-reliance in the defence sector, and included the main battle tank Arjun Mk-1, quick reaction fighting vehicles, K-9 Vajra self-propelled guns, Akash missile systems, and Nag missile system. An indigenous artillery gun — the Indian Field Gun — was deployed for the ceremonial 21-gun salute, replacing the vintage British-origin 25-pounder gun. This took forward efforts from last year, when the country put on display the surface-to-air Akash missile system and Dhanush artillery guns, among other indigenously developed weapons.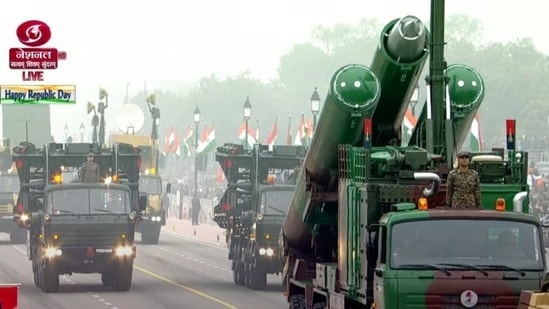 The other thrust of the parade was on the leading roles taken by women. Squadron leader Sindhu Reddy led the Indian Air Force's marching contingent at the parade, and lieutenant commander Disha Amrith was at the head of the naval contingent. Three women officers were part of the Army contingent, including lieutenant Chetana Sharma who led the Akash missile mechanised column. For the first time, women formed a part of the Border Security Force camel contingent.
Since its inception, the Republic Day parade has been used to signal national priorities, be it underlining the strength of diversity, military might or international positions (for example, the presence of the Indonesian president and non-aligned member pillar Sukarno as the chief guest at India's first parade in 1950). This year, in addition, the Republic appeared to have signalled its intent for the future. Its push for indigenous defence production is only set to gain more importance in a turbulent global order, where the fault lines between western alliances and powers such as China and Russia appear too deep, and confidence in foreign partners and supply chains for critical imports is at an all-time low. India will have to bolster domestic research and development, resolve long-standing issues with technology transfer, and develop policy predictability. The country has also made great strides in shattering entry barriers for women in the armed forces. Since 1992, when the first trickle of women officers in auxiliary services began, progress came after nudges from the judiciary. But over the last few years, the entry of women into the elite special forces in each of the three services has shown that the forces are now taking the lead in reversing outdated policies. This is a good sign for the forces and the nation.
Enjoy unlimited digital access with HT Premium
Subscribe Now to continue reading