West Bengal must learn its lessons about communalism from Malda
Published on Jan 12, 2016 09:16 PM IST
West Bengal must not make light of sectarian incidents and politicians must not derive capital out of them.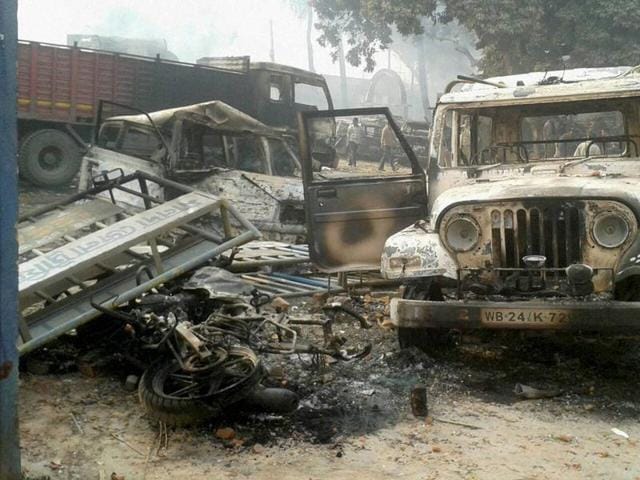 Communalising the atmosphere of a state that is going to the polls has been a recurrent feature of Indian politics. This is particularly true for states that have a substantial minority population.
The disturbing contours of something like this are acquiring shape in West Bengal's Malda district, which borders Bangladesh and has a relatively large Muslim population. The trouble started about 10 days ago, when a crowd gathered at a place to protest against a speech purportedly derogatory towards Prophet Mohammed.
Though the speech was made more than a month ago and outside West Bengal at that, the fact that protests against it are still continuing illustrates the tinder box atmosphere that obtains in many Indian states and underlines the need to contain the situation. The signs were ominous, with local people, after a to-do with BSF jawans, setting a police station afire.
Though it is true that such movements, whatever their genesis, generate a domain and autonomy of their own, eventually for them to survive and flourish they require to be manoeuvred and manipulated by external agencies such as political parties or religious bodies with a wide network.
Hence the decision of the BJP to send observers to a place whose mood is volatile was injudicious because it could have led to further trouble. While it is true that the BJP is expanding in West Bengal, it is also a fact that the party has repeatedly picked up issues that are of a divisive nature and do not address the problems of the state, such as economic backwardness or unemployment. And, as the Bihar experience has shown, the electorate now has matured to an extent that it does not rise to anyone's bait easily.
While the West Bengal government deserves praise for being able to administratively handle the situation so far by containing the violence, chief minister Mamata Banerjee had made light of the matter by saying the issue was a 'local problem' between the BSF and the people and not a 'communal' one.
It is here that caution is advised. Her government should remain alive to any such undercurrent of tension and have a finger on the state's pulse, especially at a time when Ms Banerjee is seeking a mandate for a second term as chief minister.
Read More:
Malda violence not a communal reaction, was planned: BJP
Malda flare-up: BJP gets much needed ammunition ahead of WB polls