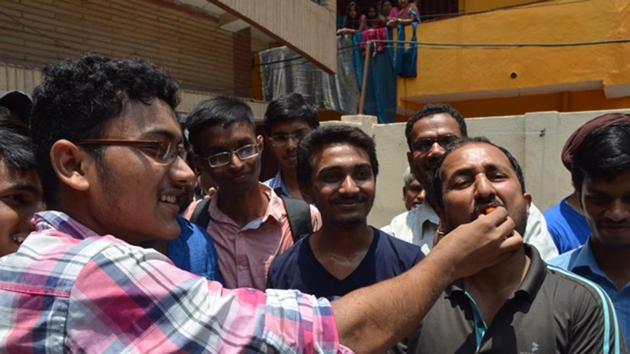 JEE (Advanced) result 2017: It is 30/30 for Anand Kumar's Super 30
Mathematician Anand Kumar's Super 30 has done it again as all its 30 students on Sunday cleared the Joint Entrance Examination (JEE) Advanced 2017.
UPDATED ON JUN 16, 2017 05:58 PM IST
Mathematician Anand Kumar's Super 30 has done it again as all its 30 students on Sunday cleared the Joint Entrance Examination (JEE) Advanced 2017 for admission to India's premier Indian Institutes of Technology (IITs).
This is the fourth time - 2008, 2009, and 2010 - that all the 30 students from the pioneering initiative cracked the JEE (Advanced). Last year, 28 out of the 30 students made it.
"This year, it is again 30/30," Kumar said.
Globally acclaimed for mentoring talented students mostly from the underprivileged sections of the society and with indifferent schooling, Super 30 has so far sent 396 students to the IITs in its 15-year journey that started in 2002.
Much before the results came out, all the Super 30 students were huddled in a room, with their parents waiting outside, as Kumar's brother Pranav checked roll numbers on the portal, which was slow to load in the beginning.
One, two, three and it ended only at 30 and every successful result was followed by congratulations for the students and distribution of sweets.
For the parents - from a landless farm labourer to a vendor and a shopkeeper to a yoga teacher - it was a moment to cherish and as many were overwhelmed to know that their children have realised their dreams.
Kumar attributed the success story of Super 30 to the hard work and unwavering devotion of its students and told reporters that it's time for Super 30 to expand, though it would be a challenge.
"But now I think I will have to strive more to bring smiles to a higher number of students," he said.
Most of the successful Super 30 candidates are from schools under state-run Bihar School Examination Board (BSEB) that is grappling with huge embarrassment and uproar over the performance of students in the intermediate exams in which an unprecedented 70% from science stream failed to clear it.
One of the inspiring stories is that of Aditya Anand, the son of a factory labourer Gautam Narayan Pandey. Aditya is now going to IIT, something unthinkable for his family till a couple of years ago. His father did not earn enough to provide proper education to his son but he did not lose heart.
The story of cloth vendor Manoj Kumar Verma is no different. He got emotional as he talked about his son's journey to Super 30. Though Verma still confuses between IIT and ITI, he was all praise for his son Kundan for making most of the "God-sent opportunity" in the form of free mentoring under Kumar.
Dhirendra Kumar, who runs a hardware shop in Punpun area on the outskirts of Patna, was on cloud nine as he got the news about his twins Sumit Raj and Subham Raj clearing the exam. Both will now study in one of the 23 IITs.
"It is the biggest blessing for me after a life of pain and deprivation. I wanted to educate my sons but did not know how and never imagined it would happen this way. I cannot ask for more. Long live Anand Sir for making it happen for the likes of me," Dhirendra said.
Another successful candidate, Abhishek Kumar, is happy that his admission in IIT will take some load off the shoulders of his father, who is a priest and ekes out a living by performing puja in households. Abhishek knows what his father had to undergo to see him succeed.
A boy, who lives close to Kumar's house since his childhood, has also made it to IIT this year. Waqar Ahmad grew up seeing Kumar teach Super 30 students and gradually he developed a desire to be part of the success story. He got into Super 30 and today he is among the successful lot.
Kumar mentors 30 students free of cost at his home and provides them food and lodging for around a year. His entire family is involved with Super 30 as his mother takes care of the cooking and his brother Pranav plans the logistics.
Though offered donation from big industrial houses of the country as well help from the government, Kumar said he does not accept any financial assistance from any quarter as a matter of principle and manages it with his earnings from evening tuition classes for Class 12 students.
Every year, a number of inspiring stories of grit and determination emerge from Super 30.
Close