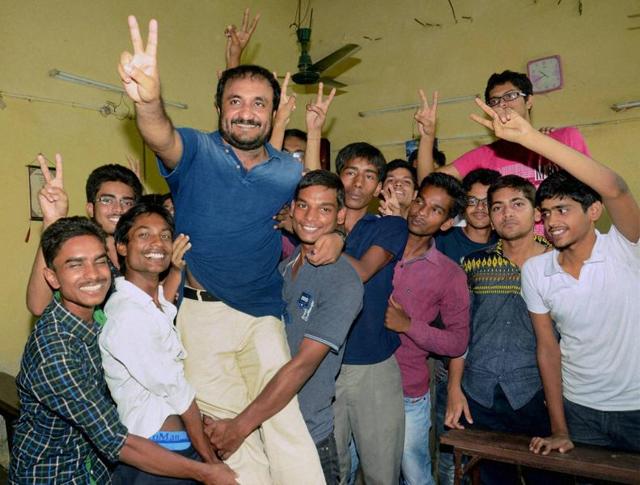 Super 30 does it again: 28 of its students crack JEE Advanced
Mathematician Anand Kumar's Super 30 continued with its impressive streak of training underprivileged children to crack the JEE (Advanced) as 29 of its 30 students made it to the IITs on Sunday.
UPDATED ON JUN 13, 2016 01:31 AM IST
Mathematician Anand Kumar's Super 30 continued with its impressive streak of training underprivileged children as 28 of its 30 students cracked the JEE (Advanced) on Sunday.
Super 30 is a globally-acclaimed residential programme started by Kumar in 2002 for poor students who are trained for the tough programme free of cost.
There was jubilation for Super 30 students at Anand Kumar's Meethapur residence in Patna as the results started trickling in late in the evening.
However, it was not without jitters, as a server problem kept cropping up. There was some relaxation though after the cut-offs – 75 for general category, 67 for other backward classes and 38 for SC/ST – became apparent and the students started re-calculating their score after matching their performance in the JEE (Advance) with the answer key.
Read: JEE Advanced 2016: Check results and summary, Jaipur's Aman Bansal is topper
"We never expected the cut off to go so low, as it has gone this time. May be, it is because the questions in JEE (Advance) this year were relatively tougher. What is more, I have never seen server play so truant as this time. It was torturous," said Anand Kumar, as his bother Pranav kept on checking roll numbers to pass on the 'big news' to his waiting students.
Like previous years, what was remarkable was that several students from backward backgrounds made it. And the joy for them was limitless, as it brought smiles to their parents far away. It brought them hope of a better tomorrow.
"Papa I have done it. Now, I will study in IIT and become an engineer," a smiling Basant Kumar told his father Satish Kumar, a small farmer in village Maniar Bigha of Gaya district.
"I never dreamt of getting into an IIT. My father still talks about ITI when he refers to IIT, as he is not educated. But he wanted me to study, as he knew only education could change our life," he added.
Read: Meet Aman Bansal who topped JEE Advanced 2016, know his success mantra
Pushkar Kumar, too, was excited, as he broke the news to his father Arjun Prasad, a private school teacher in Phulwarisharief area of Patna. Prasad always brought his son old books, as she could not afford costly books. "But once I reached Super 30 after reading about it in newspapers, things changed for me. Here my parents did not have anything to bother about," he said.
There were many like Basant and Pushkar, for whom cracking JEE meant a lot more than just results and the prospect of studying in premier IITs.
"We were like a family here and we had just one objective – to study. We did not even watch TV, let alone going to a movie till exams," recalled Ajit Kumar, whose father is a vegetable vendor in Masaurhi, around 30 kms from Patna
A happy Anand Kumar said that the results had shown the immense talent in the students.
"The students did a lot of hard work and were focussed. I have seen students growing up in adversity have huge determination. The joy on their faces and the reaction of their parents is my biggest reward. My team and family members deserve a lot of praise for making it happen year after year, as taking care of 30 students is not easy," he added.
Close