Gujarat polls: Star campaigners in campaign trail as canvassing peaks
Published on Nov 24, 2022 09:44 AM IST
The polling for the 182-member assembly will take place in two phases on December 1 and December 5 and votes will be counted on December 8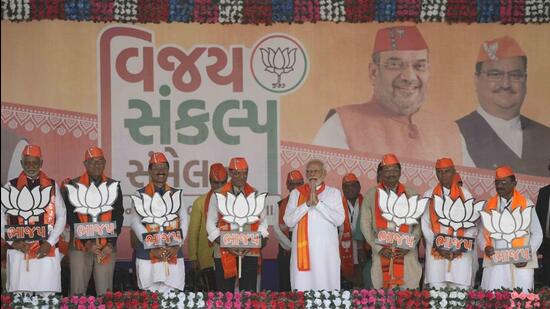 The Gujarat election campaign is in full swing with Prime Minister Narendra Modi addressing four rallies on Wednesday and Union home minister Amit Shah three. Other Bharatiya Janata Party (BJP) leaders including J P Nadda, the party chief, Punjab Chief minister Bhagwant Mann and Aam Aadmi Party (AAP) Rajya Sabha member Ragha Chadda also campaigned.
The polling for the 182-member assembly will take place in two phases on December 1 and December 5 and votes will be counted on December 8.
Star campaigners
Modi on Wednesday continued his attacks on the Congress saying its policies ruined Gujarat and the entire country. "The Congress model means nepotism, casteism, sectarianism, corruption, and vote bank politics," he said at a rally in Patidar-dominated Mehsana, where voting will take place in the second phase.
Shah accused Congress of vote bank politics. He blamed the previous Congress-led United Progressive Alliance government for appeasement politics by remaining silent on the Kashmir issue. Speaking in Dasada, Shah accused Congress of stalling the Sardar Sarovar Dam scheme and depriving the state of Narmada waters.
Patidar backyard
BJP has filed former Congress leader Hardik Patel in Viramgam to contest his first election. Patel led the violent agitation for reservation in jobs and educational institutes for the influential Patidar community in 2015. The agitation helped Congress build a narrative against the BJP ahead of the 2017 assembly elections. The BJP won 99 seats, past the halfway mark, but it was its lowest tally in two decades. The Congress got 77 seats, its best performance in decades. The agitation remains a talking point in Viramgam even as some are disillusioned with Patel for dumping the Congress and joining the BJP.
Triangular contest?
With Delhi chief minister Arvind Kejriwal-led AAP contesting all 182 assembly seats, the party has sought to project the 2022 polls as a triangular contest. Gujarat has been mainly known for bipolar polity with the Congress and the BJP as the main parties. Former chief ministers Shankar Singh Vaghela, Chimanbhai Patel, and Keshubhai Patel floated their political parties but failed. They had to wind up their parties. Shah has maintained the contest remains between Congress and BJP.
Subdued rural anger
Unlike in the 2017 elections when the agrarian crisis was in focus due to the Patidar agitation, farm issues have not been dominant ahead of the 2022 polls. The Congress made rural distress a poll issue in 2017 and recorded its best performance since 1985 and the BJP its poorest since 1995. Over the last five years, the BJP has countered the issue by introducing quotas under the Economically Backward Class category and poaching influential Patidar leaders.
Personalise your news feed. Follow trending topics