Meet AAP's giant-slayers who defeated Channi, Sidhu, Captain, Parkash Singh Badal
Mar 10, 2022 04:05 PM IST
Charanjit Singh Channi, Navjot Sidhu, Parkash Singh Badal, Amarinder Singh have been defeated by AAP candidates.
The results of the Punjab election with a huge mandate to the Aam Aadmi Party did not spring much of a surprise as AAP's major gain was predicted by all exit polls. What came as a surprise is the flop show of the heavyweights in the state including outgoing chief minister Charanjit Singh Channi, Punjab Congress chief Navjot Singh Sidhu and Punjab's 5-time chief minister Parkash Singh Badal. All of them got defeated by AAP candidates.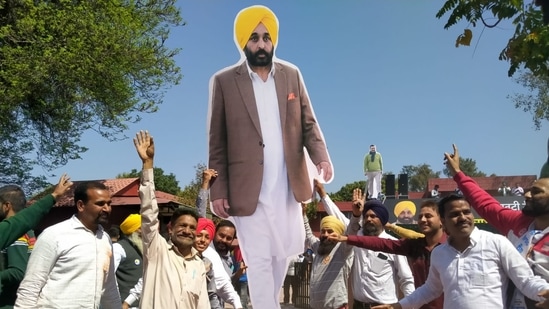 Follow live updates of Punjab Assembly Election 2022 counting
Meet AAP's 5 giant-slayers
Jeevan Jyot Kaur
AAP's Jeevan Jyot Kaur, who defeated Sidhu from Amritsar East, is a social activist popularly known as Punjab's pad woman because of her contributions to spreading awareness among underprivileged women about menstrual hygiene. She has not only defeated Sidhu but also SAD's Bikram Singh Majithia.
Jeevan Jyot Kaur has been the chairperson of the S.H.E Society.
Ajitpal Singh Kohli
Former mayor of Patiala, Ajitpal Singh Kohli defeated Amarinder Singh in Patiala, Captain's stronghold. Kohli was a Congress candidate from Punjab's Moga constituency, Malvika Sood has been defeated by AAP's Dr Amandeep Kaur Arora by over 20,000 votes. Ajitpal Singh Kohli and his family had around seven decades of association with Akali Dal as his father Surjit Singh Kohli, senior vice-president of Akali Dal, remained public works department (PWD) minister in 1997. His grandfather Sardara Singh Kohli also represented the SAD as an MLA. Kohli was Patiala mayor from 2007-2012.
Labh Singh Ugoke
Incumbent chief minister Charanjit Singh Channi was defeated in Bhadaur assembly seat by AAP's Labh Singh Ugoke. Ugoke had joined the Aam Aadmi Party (AAP) as a volunteer in 2013. His father is a driver, while his mother is a sweeper in a government school. Ugoke used to run a mobile repair shop and is a 12th pass. "For me, Bhadaur is not a 'halqa' (constituency), it is my family. Channi Sahab does not know the names of even 10 villages of Bhadaur. For Channi Sahab, Bhadaur is a 'halqa'," he had said.
Dr Charanjit Singh
Dr Charanjit Singh who defeated Charanjit Singh Channi from his Chamkaur constituency is a social worker, an eye surgeon and is the state vice president of Doctor's Wing.
Gurmeet Singh Khudian
AAP's Gurmeet Singh Khudian defeated Punjab's five-time chief minister Parkash Singh Badal in Lambi constituency. Gurmeet Singh Khudian defected from the Congress and joined AAP last year stating he was feeling ignored in the party. He is the son of former MP Jagdev Singh Khudian. His profession according to the election affidavit filed with the Election Commission is agriculture.
Topics