UP election results: How the BJP won Muslim-dominated Deoband again
Updated on Mar 11, 2022 06:04 PM IST
Deoband, the home to Darul Ulum Deoband, one of India's most influential Islamic seminaries, has been won by the BJP for the second straight time. Situated in Saharanpur district, the town has a 70% Muslim population but the constituency has 40% Muslim voters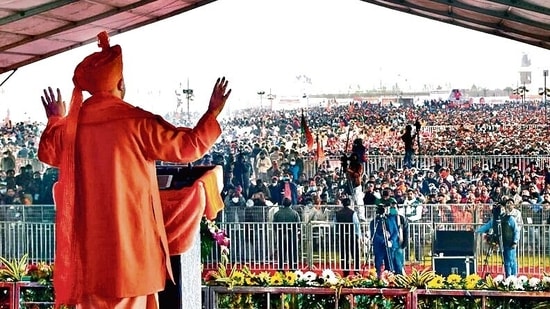 The Bharatiya Janata Party ducked anti-incumbency in the politically crucial Uttar Pradesh, winning 273 seats along with its allies Apna Dal (S) and Nishad Party. Among the seats which the saffron party won for the second term, there is one seat which was a hot topic of discussion among the poll pundits.

Deoband, the home to Darul Ulum Deoband, one of India's most influential Islamic seminaries, has been won by the BJP for the second straight time. Situated in Saharanpur district, the town has a 70% Muslim population but the constituency has 40% Muslim voters. The Bharatiya Janata Party's sitting MLA Brijesh Singh defeated his Samajwadi Party rival Kartikeya Rana by 7,104 polls.

Let us decode how did the saffron party managed to retain the seat once again, proving the poll pundits wrong.

Read: On Hindutva, welfare planks, BJP defeats Samajwadi Party in central UP

Owaisi's AIMIM helped BJP?

All India Majlis-e-Ittehad Muslimeen (AIMIM), the party has been often dismissed by its opponents as a B team of BJP, C team of Congress. The party aggressively took part in the UP elections, fielding 100 candidates but couldn't win any seat. It registered a vote share of 0.43 per cent. In Deoband, the AIMIM candidate Umair Madani bagged 3,500 votes. The difference between the BJP and SP candidates was a little over 7,000 votes. Had the AIMIM not fielded its candidate, it could have been possible that those three thousand odd votes might have helped the SP candidate win. In the 2017 polls, the AIMIM had not fielded a candidate on this seat.

Split in anti-BJP votes
In a possible re-run of the 2017 results, the saffron party might have benefitted from the split in anti-BJP votes. The Bahujan Samaj Party candidate Chaudhary Rajendra Singh and Congress nominee Rahat Khalil polled more than 53,000 votes together that could have benefitted the SP candidate Rana.

Back then in 2017, the BJP's Brijesh Singh garnered 1.02 lakh votes, benefitting from the split in votes due to the Muslim candidates fielded by both SP and BSP. The Bahujan Samaj Party candidate Majid Ali got 72,844 votes while SP face Maviya Ali got 55,385 votes.

But in a Muslim-dominated seat, a non-Muslim BSP candidate polling over 52,000 votes suggests that the votes were not polled on religious lines. Had this been the case, the Congress candidate Rahat Khalil could have got more votes.