UP election 2022 in numbers: 10 points
Updated on Mar 11, 2022 08:26 AM IST
Uttar Pradesh assembly elections 2022: The BJP became UP's first incumbent government, since 1985, to retain power.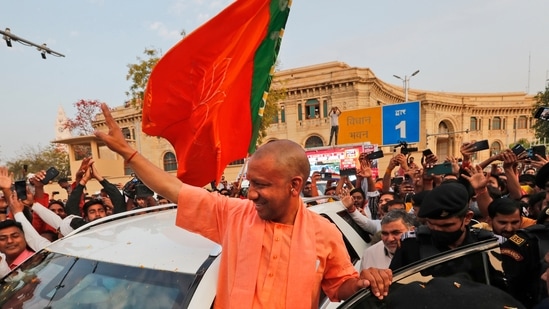 The Bharatiya Janata Party (BJP) and its allies retained power in Uttar Pradesh, which went to polls in seven phases, the first of which was held on February 10 while the final leg was conducted on March 7. The BJP, which won 312 seats on its own, and total 325 with its allies in the 2017 polls, came down to 255 (273 with allies) in the 403-member assembly; however, the party-led National Democratic Alliance (NDA) continues to be well above the majority mark of 202.
Also Read | BJP+ retains UP: 273 seats (52 down from 2017), new record for Yogi- 10 points
Here are some numbers from the Uttar Pradesh assembly elections 2022:
(1.) Uttar Pradesh, with a population of more than 200 million, is the most populous country sub-division in the world. According to the Election Commission of India (ECI) data, as many as 150 million people in the state, including those from UP living in other states, were eligible to exercise their right to vote in the recently-held assembly elections.
Also Read | Modi's outreach bested Akhilesh Yadav's caste calculus in UP's eastern reaches
(2.) However, across the seven rounds, an average voter turnout of 60.6 per cent was recorded, which means that around 90 million electors turned up for polling. Also, the turnout was marginally lower than 61.04 per cent from five years ago.
(3.) Among those who voted, as many as 41.29 per cent went with the BJP, as per ECI data. The party secured 39.67 per cent votes in 2017. Its primary challenger, the Samajwadi Party (SP), witnessed a significant increase in both its seat tally and vote share. The SP, headed by former CM Akhilesh Yadav, secured 111 seats and 32.06 votes (47 and 21.82 per cent, respectively, in 2017) to emerge as the principal opposition party in the state.
(4.) The two main chief ministerial candidates--the incumbent CM Yogi Adityanath and his predecessor Akhilesh Yadav--both registered one-sided victories from their respective constituencies. While the former won by more than 100,000 votes from Gorakhpur Urban, the latter was victorious by a margin of 67,504 votes from Mainpuri's Karhal seat.
Also Read | UP election result: Modi-Yogi factor propels BJP to historic victory
(5.) Interestingly, both Yogi and Akhilesh contested assembly elections for the first time. However, the two have been Members of Parliament (MP); the SP chief is a sitting MP from the Azamgarh parliamentary constituency.
Also Read | UP election result: Samajwadi Party vote share goes up but not enough
(6.) Also, this marked the BJP's fourth consecutive win in Uttar Pradesh. It won here in 2014 and 2019 (Lok Sabha elections), as well as 2017(assembly polls). Prime Minister Narendra Modi is a 2-term and incumbent MP from the state's Varanasi seat.
(7.) Meanwhile, among other parties, the now-former heavyweights--the Bahujan Samaj Party (BSP) and the Congress--sunk to historic lows. While the BSP, lead by former CM Mayawati, won just 1 seat, the Congress' tally was just one better. Their respective vote shares were recorded at 12.88 per cent and 2.33 per cent.
Also Read | After BJP retains 4 states, Tripura, Karnataka chief ministers confident of 2023
(8.) In 2017, the BSP was victorious on 19 seats and won 22.23 per cent votes, while the corresponding figures for the Congress, which, at the time, contested in alliance with the SP, stood at 7 and 6.25 per cent, respectively.
(9.) In the current elections, SP ally Rashtriya Lok Dal (RLD) won eight seats and a vote share of 2.85 per cent. As many as 0.69 per cent voters chose None of the Above (NOTA).
(10.) Significantly, the BJP, with its win, is Uttar Pradesh's first incumbent government in 37 years to win a second straight term. However, several sitting ministers were defeated, including deputy CM Keshav Prasad Maurya.
Close Story
Personalise your news feed. Follow trending topics