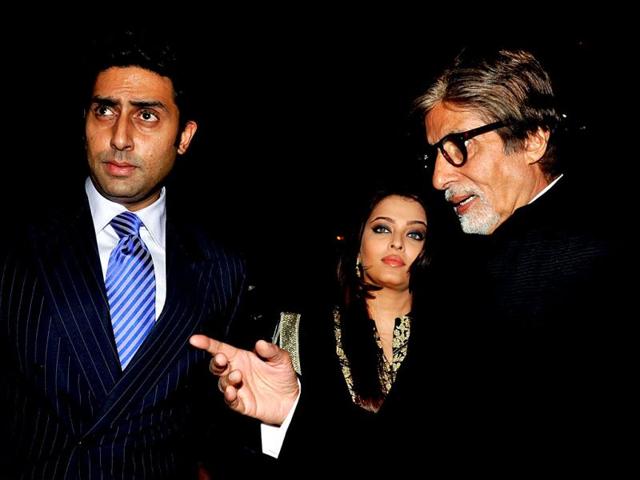 Bollywood rings in New Year quietly in support of braveheart
The death of a 23-yr-old woman who had been savagely raped and tortured cast a long shadow over New Year's Eve celebrations. Bollywood actor Amitabh Bachchantweeted: "Happy New Year to all. For a glorious 2013... but never forget what 2012 left...
UPDATED ON JAN 01, 2013 05:34 PM IST
The death of a 23-year-old Delhi woman who had been savagely raped and tortured cast a long shadow over New Year's Eve celebrations not just in the national capital but across India with subdued introspection taking over wild parties in many places. Good health, love, happiness and respect for women - Bollywood celebrities have wished all this and more to their fans and loved ones on the first day of 2013.
A source close to the Bachchans said: "There's absolutely no appetite for celebration in the Bachchan parivar. Both Amitji and Jayaji are extremely upset by what has happened in Delhi. All plans in the Bachchan family for the New Year have been cancelled."
Other celebrities , like the Kapoors--Rishi, Neetu and Ranbir --and the Roshans, too called off their plans in the wake of the tragedy.
Shabana Azmi, who had planned a New Years eve party at her farm-house in Lonavala with her husband Javed Akhtar, said emphatically: "We are doing NOTHING to celebrate the New Year out of respect for the braveheart who lost her life on Saturday after putting up a valiant fight that brought the people of our country together as one nation demanding safety for India's daughters."
The celebrities took to Twitter to extend New Year wishes. Here's what they had to say:
Amitabh Bachchan: Happy New Year to all. For a glorious 2013... but never forget what 2012 left us with.
Anupam Kher: Wishing you all a happy and hopeful 2013. Love, happiness, peace and respect for the 'Her' among us.
Asha Bhosle: Best wishes for the coming year.
Lata Mangeshkar: Namaskaar and a very happy new year to my twitter family... lots of love, happiness, peace and good health to you all.
Akshay Kumar: In the New Year, may your cheque book and budget, balance and include generous amounts of charity because no one has ever become poor by giving... think about it. Cheers! Happy 2013.
Madhuri Dixit: Wish you all a very happy and fulfilling new year! Happy 2013!
Abhishek Bachchan: I wish you a safe New Year! Big love.
Karan Johar: Make 2013 the year that you gain perspective, lose inhibitions and maintain your balance. Own the year... let it not own you! Happy 2013.
Sonam Kapoor: Change is the only constant. Be responsible citizens of the world, who fight for what is right! Happy New Year.
Resul Pookutty: Let us ring in the new bells, a very happy New Year to you all. May this year bring the best you all! Love you all.
Madhur Bhandarkar: While 2012 has been quite an emotional year for us, I wish you all a happy, healthy and successful 2013. Let the bright side of life begin.
Vivek Oberoi: Happy New Year everyone! Wishing you all love, light, happiness and success in 2013.
Tusshar Kapoor: Happy New Year pals, thanks for your love and support this past year. Wish you all love, luck and happiness in 2013! Work hard and party harder.
Shreyas Talpade: Wishing all a better New Year than the previous one.
Ali Zafar: Happy New Year.
Manoj Bajpayee: Happy New Year to all of you! My new year resolution is to be a better human being and take care of my health all the time. Eat right.
Ranvir Shorey: Wishing everyone a happy 2013.
Arjun Rampal: Good morning 2013! Wish you all, peace, love, strength and abundance of joy. Stay positive and be open to receptive to positivity. Happy New Year.
Divya Dutta: A very happy New Year to all! God bless.
Raveena Tandon: Happy New Year all of you! My loved ones on twitter! God bless, bring you a new year with hope and happiness.
R. Madhavan: A very happy 2013 to you all my lovely tweeple.
There were those who partied of course, in homes and in pubs, but the celebrations were muted. And at the stroke of the midnight hour, there were not so many crackers heard. Many of the party-goers were elsewhere - gathering in places like Munirka and Saket in New Delhi or Park Street in Kolkata to remember the young physiotherapy who lost the battle for life in a Singapore hospital Dec 29, 13 days after she was raped in New Delhi.
It was time to "reclaim the night", said some women who had collected in the national capital's Munirka area, from where the woman and her friend had boarded the bus the night of Dec 16 on their way back from a movie. Yes, we will celebrate New Year. But we also mourn for her, and what she had to go through," said a young woman in Kolkata's Park Street.
There were those who partied of course, ringing in the New Year with their friends and family. In the many Gurgaon condominiums, for instance, some took the decision to not light up the buildings as is customary and others continued with the parties. But everywhere, discussions on the young woman, unnamed and unidentified, could be heard.
While many homes decided not to light up their houses, several clubs, like Delhi's Gymkhana Club and Press Club of India, cancelled their celebrations. Punjabi rapper Honey Singh's show in a hotel in Gurgaon, adjoining the national capital, was called off too as an people protested the sexist and misogynistic lyrics of his song.
ott:10:ht-entertainment_listing-desktop

Close