Madhur Bhandarkar on casting Tamannaah in Babli Bouncer: 'People will ask where was she all this time'
Updated on Sep 22, 2022 08:46 AM IST
Ahead of Babli Bouncer's premier on Disney+ Hotstar, director Madhur Bhandarkar talked about his film, casting Tamannaah Bhatia and more, during a tell-all interview.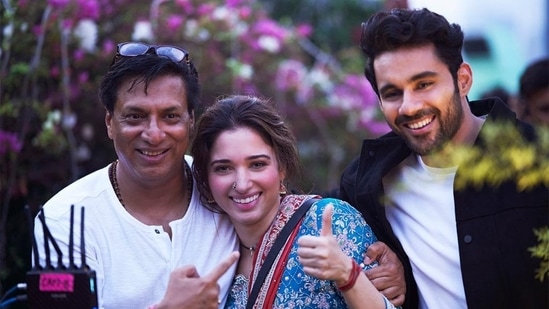 Filmmaker Madhur Bhandarkar is pulling all strings to promote his film Babli Bouncer starring Tamannaah Bhatia, which will release on Disney Hotstar. In an exclusive conversation with Hindustan Times, the happy director ensured, "People will have a smile on their face after watching the film." (Also Read | Babli Bouncer trailer: Tamannaah Bhatia packs a punch as she becomes bouncer from bodybuilder. Watch)
Babli Bouncer explores the world of female bouncers, indeed a different subject in the romantic-comedy genre. But why only bouncers? Madhur Bhandarkar said, "I am known to make films on subjects which nobody has touched before. I found the world of bouncers very interesting, but female bouncers are something new. Then we researched and found how most bouncers come from Haryana. They come to Delhi-Mumbai for work."
In the film, Tamannaah plays Babli, a female bodybuilder in her village. The director described her character, "Babli is very feisty, prankster, bindas, naughty and romantic by heart. I never had such a character before in my film as the lead. Females in my films are different, at times submissive like Tabu in Chandni Bar. But Babli has opposite elements. We wanted to make a light-hearted comedy, but at the same time, you will find the characters very real. They aren't over the top, something far-fetched from reality. Because I have an audience who watches Madhur Bhandarkar films in a manner. I wanted to keep that essence because my audience is important. They know my films are real."
The film stars Tamannaah opposite Abhishek Bajaj who rose to fame after Karan Johar's Student of the Year 2. He came under Madhur Bhandarkar's scanner in an organic way when the latter spotted him on Twitter. How did it happen? Madhur, who was initially confused, shared, "I didn't know who to cast. One day I was going through my timeline and saw an article on Abhishek Bajaj with his photo. I just clicked the link and found out he was in Chandigarh Kare Aashiqui. I haven't watched the film but somewhere I liked him. I forwarded it to my team and that's it! He gave an audition and came on board." Abhishek appears as Babli's boss and her love interest in the film.
However, getting Tamannaah Bhatia for the film wasn't a similar case. Madhur, who wrote Babli Bouncer before the pandemic, was approached by film production house Junglee Pictures after narration to the OTT platform. "They said 'why don't you go for Tamannaah Bhatia? I said okay. I had not seen any movies except the Baahubali series. I Googled and saw her pictures."
The director refrains from watching films of actors before casting them in his films. Madhur continued to narrate the process, "I met Tamannaah in person. When my writer did the narration, I could only imagine her being Babli. She too loved it and things started developing. I told her 'I am going to treat you like a newcomer.' She kept saying `Madhur sir is relaunching me in films." Madhur believes Babli Bouncer is going to be a "game changer" for the actor's career.
Tamannaah's character hails from Haryana and naturally, comes with a heavy influence of the North accent. For the same, the actor trained herself and even had a teacher on the sets. But, casting someone from the state could have been easier. Madhur contradicted, "I think every director has a different perspective. Every actor has their own way of expressing. For me, apart from delivering the dialogues in the accent, Tamannaah has done a fab job. I'm telling you, you have never seen her like this before. That's why I am calling it a game changer; it's a very loaded word. There will be a paradigm shift in her career after this movie is released. People will be like 'where was she all these years?'"
Personalise your news feed. Follow trending topics