Pakistani actor Meera Jee to play Meena Kumari's role in remake of Bollywood classic Pakeezah
Feb 01, 2023 05:38 PM IST
Pakistani actor Meera Jee will star in the remake of Pakeezah. She has confirmed that she will essay the role played by Meena Kumari in the upcoming hit Bollywood film, Pakeezah (1972).
Pakistani actor Meera Jee will star in the remake of Pakeezah (1972). She is all set to essay the role played by late actor Meena Kumari in the Pakistani remake of Bollywood classic Pakeezah. The film was written, directed and produced by Meena Kumari's husband Kamal Amrohi. The film had late veteran actors Ashok Kumar, Raaj Kumar and Meena Kumari in lead roles. (Also read: Amitabh Bachchan reveals Meena Kumari danced around fountains with real rose water in Kamal Amrohi's Pakeezah)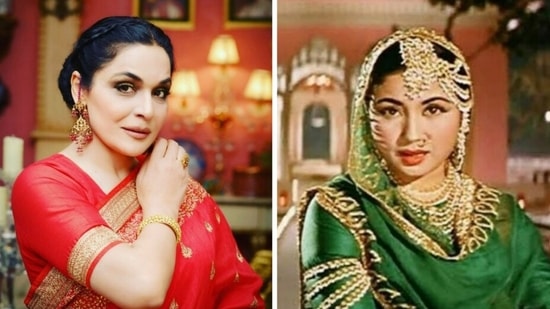 In a conversation with SAMAA Digital today, Meera Jee said, "I am going to play Pakeezah, 100%." She further told them that they had been working on this project for the last 13 years while the shooting will start from March, 2023. She also said the movie is produced by a US-based production house called Red Lipstick, and the casting is still under process. Earlier, there were rumours that actor Mahira Khan will essay the lead role.
Meena Kumari's film Pakeezah is arguably her best work and among the most beautiful musical dramas ever made in the Indian cinema. The film was made by Kamal Amrohi, who began work on it in 1956 but put it on hold due to their misunderstandings in personal life. Both of them came together to complete the film in 1969 when Meena was severely ill. The film wasn't appreciated in theatres but went on to be a hit after she died almost a month after its release in 1972.
In 2021, Amitabh Bachchan talked about how legendary filmmaker Kamal Amrohi used real rose water in all the fountains installed on the sets of Pakeezah. According to Meghnad Desai's book Pakeezah, Meena charged just a token amount of Re 1 for her role in the film.
Meena was born as Mahjabeen Bano to artists Ali Bux and Iqbal Begum on August 1, 1933. When she was just four-years-old, when Ali Bux started taking her to studios, made her the breadwinner in her family at a very young age. She has starred in several films such as Piya Ghar Aaja, Sanam, Garib, Vijay, Baiju Bawra among others.