Pathaan fans react to 'empty theatres' claims with dance party videos from cinema halls. Watch
Jan 26, 2023 12:40 PM IST
Fans of Shah Rukh Khan reacts to claims of 'empty theatres' with videos of dance parties in several theatres across the country.
Despite an estimated ₹50 crore opening and sold out shows across the country, some are still sceptical of how Pathaan is being received by the audience. Shah Rukh Khan's spy-action film also stars Deepika Padukone and John Abraham and heard calls for boycott and saw a big controversy about one of its songs before the release. However, looks like nothing has really affected the footfall at theatres on opening day. (Also read: Pathaan estimated box office day 1 collection)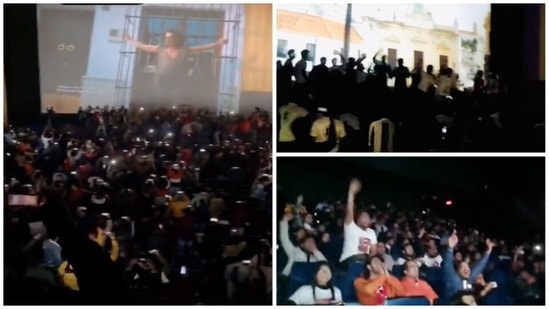 But even with stellar box office reports coming in, tweets showing empty cinema halls have surfaced. "Is #Pathaan flop or hit? Got this clip from someone," read a tweet that showed a largely empty theatre. However, Pathaan was not playing on the big screen. In reply to him, many shared videos of people leaving their seats and dancing in theatres to Jhoome Jo Pathaan or Besharam Rang during the show. Check out a few:
A Twitter user also compiled a string of videos that showed people dancing and hooting in theatres. "Compare the reaction of audience in theatres on Pathan with that of a recent state-promoted film; where the latter not only led to vile hate speech in the theatres but was also later used to provoke violence," read a tweet attached to a video. "Audience started dancing on #JhoomeJoPathaan song in cinema hall. People celebrating @iamsrk movie after four years," wrote another. "Saw some tweets claiming theaters are empty and no one is watching #Pathaan," read another tweet with a similar video.
Given the huge response to the film, which opened in 5,000 screens with big cities, including Delhi-NCR and Mumbai, beginning shows at 6 am and 7 am, Yash Raj Films said it had added a post midnight 12.30 am show across the country beginning Wednesday. Besides, 300 more screens were added due to high demand, according to trade analyst Taran Adarsh. The film's screen count now stands at 8,500 worldwide, he said.
The film, directed by Siddharth Anand, has been battling calls for a boycott over the song Besharam Rang, which features Deepika Padukone in several costume changes, including a saffron bikini.
The success of the film, which is set for the biggest opening for any Hindi film ever, played out in a montage of fan adoration. In Kolkata, the SRK brigade feted the star by feeding chocolate cake to the movie's poster. In Guwahati, some poured milk over Pathaan" billboards, recalling the frenzy that normally meets a Rajinikanth film.
As security was beefed up in halls in anticipation of protests, there were many clicking selfies with giant posters and cutouts of the 56-year-old star.
(With inputs from PTI)