Shraddha Kapoor reacts to fan who asked her to love humans and not food: 'Paani puri jitna pyaara mila nhi aaj tak'
Feb 04, 2023 03:39 PM IST
Actor Shraddha Kapoor shared a video on Instagram while enjoying pani-puri. Expressing her love for golgappas, she asked her fans to tell whether they are deeply in love with something or someone.
Shraddha Kapoor took to Instagram and shared video of herself while feasting on street food. She gorged on mouth-watering pani puri, and expressed her love for the dish. The actor seemed happy as she had her favourite snack all alone and asked her fans to tell her whether they love something or someone deeply. Many fans rushed to her comment section and dropped messages. (Also read: Shraddha Kapoor gorges on pani puri, ragda patties with brother Siddhant Kapoor and friends. See pics)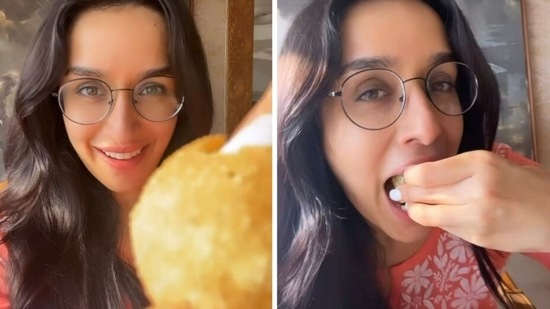 Taking to Instagram Reels, she shared a clip while eating golgappas. Wearing spectacles, she was dressed up in peach suit with white flowers embroidery on it. Preparing the dish in the video, Shraddha savoured the pani-puri and smiled as she ate it. She added Tere Pyaar Mein song from her upcoming movie, Tu Jhooti Mai Makkaar to the post, and lip-synced the lyrics as well.
Sharing the video on Instagram, Shraddha wrote, "Aap log kiske pyaar mein Bheege Bheege Bheege? Comments mein batao aur apni apni reels banao (With whom you are deeply and madly in love with? Tell me in the comment section below, and make your own reels)." She used 'Tere Pyaar Mein' as the hashtag. One of her fans commented, "Jhooti pyaar karna tha toh Vada pav se karti (Liar, if you wanted to love then you should have loved Vada pav)." To which, Shraddha replied, "Vada pao se toh seedha shaadi karoongi (Straightaway, I will get married to Vada pao)," with laughing emoji.
Another fan wrote, "Baki tho thik hai pyaar karna hi hai toh insaan se kro (Everything is fine, but if you want to love someone, then love humans)." To which, she said, "Pani Puri jitna pyaara mila hi nhi aaj tak (I haven't found someone as lovely as pani-puri)." Other fan commented, "Shraddha and eating is an endless love story," she responded, "Forever kinda love." "Itna khaane ke baad bhi moti kaise nhi hooti (Why don't you put on weight after eating so much)?" asked one, to which Shraddha said, "Pehle teekhey paani se zubaan jalaati hoon phir calories jalaati hu (I burn my tongue after having spicy water then I burn my calories)."
Shraddha will be next seen in Tu Jhoothi Main Makkaar. The film will also star Ranbir Kapoor in lead role. Directed by Luv Ranjan, the romantic comedy is produced by Luv Films, and presented by T- Series' Gulshan Kumar and Bhushan Kumar. The film will release in cinemas on Holi, March 8, this year.