Soha Ali Khan shares how Kunal Kemmu falls asleep after promising to play with Inaaya: 'Don't fall for it'. Watch
Published on Aug 09, 2022 04:48 PM IST
Soha Ali Khan has shared a hilarious video from her husband Kunal Kemmu's play date with their daughter Inaaya Naumi Kemmu.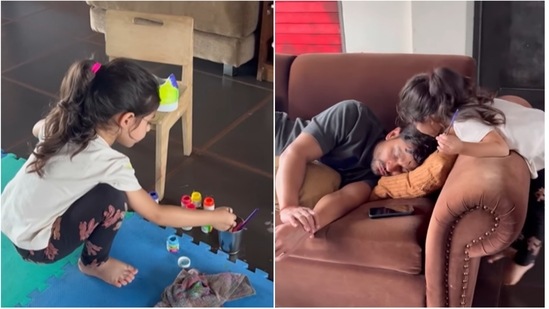 Soha Ali Khan teased her husband Kunal Kemmu as she shared a video from his recent playtime session with their daughter Inaaya Naumi Kemmu. Soha noted that Kunal can't be trusted when he says he is going to play with Inaaya, as he would be found deep in sleep. Also Read| Inaaya aces the 'Tokyo drift' as she races against dad Kunal Kemmu
Soha took to her Instagram account on Tuesday to share a video of Inaaya and Kunal Kemmu. The video showed Inaaya engrossed in a craft session as she painted a white sneaker in vibrant colours. The text on the video read, "Kunal: Don't worry Soha. I'll play with Inaaya." Soha then panned the camera to show Kunal asleep on the couch with Inaaya's blanket covering him. Toward the end of the video, Inaaya completed painting the sneaker, and went to her father and kissed him on his head while he continued to sleep.
Soha captioned the video, "Don't fall for it .... #fatherdaughter #qualitytime." Instagram users also agreed with her in the comments section. One wrote, "Father-daughter quality time always ends in the father sleeping," while another commented, "Scenario of every dad." A third one wrote, "Just dad things." Others complimented Inaaya for her painting skills and called the video 'adorable.'
Soha and Kunal will celebrate Inaaya Naumi Kemmu's fifth birthday next month. The two often share pictures and videos of her on social media. The posts also give a glimpse into Inaaya's love for arts and crafts. Soha's sister Saba Ali Khan shared pictures of Inaaya's paintings on her Instagram account as well.
Recently, Soha shared in a post that Inaaya was taking a painting lesson from artist Paresh Maity. Sharing pictures of Inaaya and Paresh, Soha captioned it, "What a privilege to meet with and learn from such a celebrated and prolific painter, sculptor and photographer and at such a young age."
Personalise your news feed. Follow trending topics